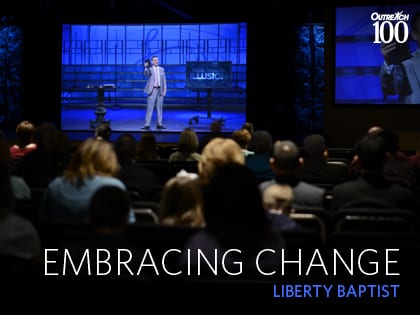 Liberty Baptist Church Marries Changes in Methodology with Uncompromising Biblical Preaching
Grant Ethridge takes the Word to the pulpit, and then congregants like Jesse Garcia take it to heart.
Garcia heard the Liberty Baptist Church senior pastor preach on the Great Commission, shedding light on the "go" part. It implies making disciples "as you are going" from place to place, not only after moving to a different location to do so, he learned.
Now Garcia carries the message of Jesus from place to place, and his neighbors attend the Hampton, Va., church where they, too, hear Scripture and how to apply it to their lives.
"I know if they come to Liberty, they're going to get the Word of God," Garcia says. "Pastor Grant doesn't sugar coat anything."
"We believe and preach the Bible," Ethridge confirms, "but it's not as an old book of history. We believe it's relevant today."
Preaching the Word and helping hearers use it outside church is one reason Liberty grew, according to Ethridge.
The Person they preach is another.
What makes Liberty unique is that it's not unique, Ethridge says. "We simply point people to Jesus, who is unique," he explains.
The pastor recently taught a series on Jesus' parables and another on Jesus' miracles. But it doesn't matter where he preaches from in the Bible: "It's all about him," Ethridge says. "Jesus is the only one who can change lives. We can't change lives."
But Liberty leaders can—and did—change their methodology, a third reason Ethridge points to for growth.
"Jesus said to be fishers of men, and you can't go fishing without a hook," he says. And Ethridge knew that Liberty could use a better hook, one example of change.
He asked leaders the point of their church picnic, an annual gathering of around 1,800.
"Fellowship," they answered.
He had another idea: Evangelism. Ethridge challenged congregants to invite four unchurched friends to the picnic, which morphed into a festival of rides, food and prizes. It then drew more than 4,000 people in Sunday attendance that first year.
"We changed the focus from inward to outward," he says.
Their latest Libertyfest brought in more than 7,800 people. It drew thousands of visitors to their church, and more than 2,000 people said that they would follow Jesus, according to Ethridge.
Each year Liberty leaders ask: What's working? What's not? Then they adjust accordingly.
Their church once failed to mirror the makeup of their ethnically diverse Hampton area. So they prayed, and then printed differently. Their outreach materials showed people who looked like Liberty churchgoers, but after they featured people who looked like those they wanted to attract, that's who joined them.
"We did not print who we were, but who we wanted to be," Ethridge explains. "And people began to get the message that they're welcome."
"We're willing to change," he says. "You've got to preach Jesus and preach the Bible or you don't have anything life-giving. But you have to change to be relevant…We're talking eternal matters."
LIBERTY BAPTIST CHURCH
Hampton, Va.
Senior Pastor: Grant Ethridge
Twitter: @GrantEthridge
Website: LibertyLive.com
Founded: 1900
Affiliation: Southern Baptist
Locations: 2
Attendance: 4,467
Growth in 2013: +886 (25%)
Fastest Growing: 15