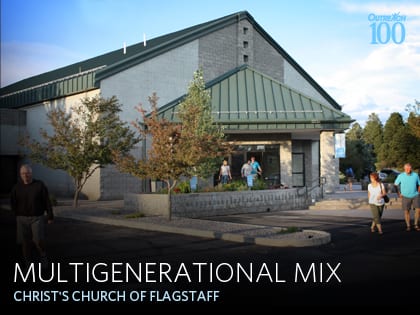 Christ's Church of Flagstaff Grows as It Adds Younger Worshippers to Its Ranks
Christ's Church of Flagstaff is 10 minutes from Northern Arizona University, home to 20,000 students, so when church leaders a few years ago took a hard look at where they could improve, the nearby college was an obvious place to start.
The church hired a ministry leader who launched campus Bible studies, hosted barbecues with students, organized sporting events and undertook similar steps to forge relationships with the millennial set.
It worked. Today, 10 percent of the nearly 1,000 adults who attend the independent Christian church on weekends are college students, and the 20-somethings worship alongside families and retirees.
"College students can learn a lot from their grandparents, and older people can learn a lot from young people, who help them stay engaged and energized," says Chris Reed, Christ's Church executive pastor.
What's more, church leaders in recent years prioritized attracting families with children, saying they believe a multigenerational congregation is vital for a healthy, growing church.
To that end, they overhauled their children's ministry staff and began hiring people with a clear passion for mentoring kids, then provided training to help them do their jobs even better. Additionally, the children's church on the 13-acre campus was remodeled to make it more "welcoming and safe," church leaders report.
"We wanted to make sure families felt comfortable handing over their kids," explains James Dorman, senior pastor. "And we want our children to wake their parents up and say, 'We can't wait to go to church!'"
The multigenerational emphasis—called "expanding the church's DNA" among its pastors—has been a boon.
"As we celebrate 30 years," Dorman says, "we remain young, vibrant and strong."
CHRIST'S CHURCH OF FLAGSTAFF
Flagstaff, Ariz.
Senior Pastor: Jim Dorman
Twitter: @ccofnow
Website: CCOF.net
Founded: 1984
Affiliation: Nondenominational
Locations: 1