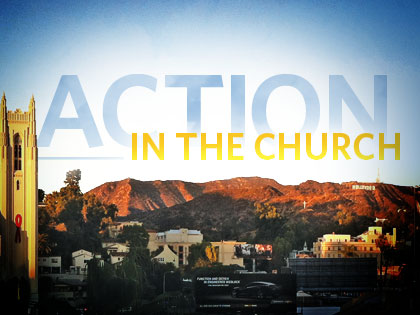 A Hollywood church uses its location to raise money for outreach.
Religion and the film industry are often at odds, but one 80-year-old church nestled in the heart of Hollywood has made its own movie magic.
Hollywood United Methodist Church, with its central Los Angeles location and its striking Gothic Revival architecture, has served as a set location for dozens of television shows and films over the decades.
The church, with an average weekend attendance of about 325 people, parleys its rental earnings into ministries. It feeds hundreds of area homeless each month, runs an active HIV-AIDS support program and frequently sends volunteers to Haiti, New Jersey and other regions to help clean up after natural disasters.
Pastor Kathy Cooper-Ledesma says she doesn't have a problem renting the sanctuary to secular Hollywood.
"We are supposed to be good stewards of everything God has given us," she says. "I think it's a sin for a church to sit vacant six days a week."
Cooper-Ledesma understands their situation is unique, but suggests all church leaders can take stock of their communities, understand their congregants and neighbors and maximize their potential.
"Maybe there's an AIDS group that needs a location, a preschool that could use a home, an adult respite in need," she says. "There are all kinds of needs in a community, not just among the folks who occupy the pews on Sunday morning."
Hollywood United Methodist has doubled its worship attendance over the last five years with that attitude, she adds.
"Too often the church turns inward instead or looking outward as Jesus would," she says. "When that happens, we turn to our comfort zone and don't stretch to look beyond."