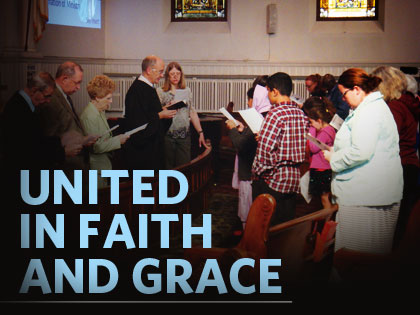 The former owner and new owner of a historic church building share the space … and more.
Last year, when the 120-member congregation of Faith United Parish in Fitchburg, Mass., was struggling to maintain upkeep of its large brownstone, Pastor Jeff Conlon was confident the Lord would provide an answer. He was right.
Ultimately, the congregation, a cooperative ministry of the United Church of Christ and the United Methodist Church, deeded its building to the Baptist Casa de Gracia y Restauración (House of Grace and Restoration), which was looking for a larger church building to accommodate its growing 270-plus Hispanic, bilingual membership. The two congregations, however, agreed to share the building after the sale.
"We feel God brought us together," Conlon says. "And it's perfect because we all believe in one God, one faith, one baptism, one Savior."
Co-pastors Luis and Michelle Feliciano of Casa de Gracia were thrilled to be the first Hispanic church located on Fitchburg's Main Street and are eager to collaborate in shared ministry projects, they say. One such project is Feeding Souls, which provides food, clothing, haircuts and hygiene products to the homeless.
Kevin Weeks, who has benefited from the program since its inception, says that although he benefits from the meals and haircuts, he most appreciates the fellowship.
"I feel joy when I come here," says Weeks. "I feel God in this place."
And that's precisely the point.
"We pray for everyone who walks through the door, regardless of race, religion or language," says Michelle.
Conlon says the two congregations' combined purpose of serving God and spreading the gospel is what brings people together.
Adds Michelle, "Though we are two different churches, we are one church in God."