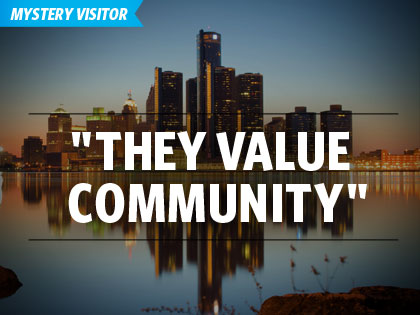 An unchurched person reports on an unannounced visit to Triumph Church in Detroit, Mich.
A 40-something female visits Triumph Church, in Detroit, Mich., the 2013 No. 1 Fastest-Growing Church, on Aug. 11, 2013 at 7:45 a.m.
OVERALL SCORE
****
What was it like when you entered the building? 
Even though the church had no official greeters, several people said "hello" and were friendly.  The atmosphere was uplifting and people seemed engaged and ready. They had no printed bulletin or any sort of guide for the service.
* * *
Was it obvious where the children's ministry was located and that it was clean, secure and well-staffed?
I didn't see any younger kids in the service. I assumed they went to their own separate room. They had some information on the website, and the environment seemed like a safe place to leave your kids.
* * * *
Did you observe anything that would lead you to believe that this church values diversity?
Although they had a diverse group of ages from differing backgrounds, the church had little to no diversity in ethnicity. The website explained their involvement in the community and their plans for the future. They value community and reaching out to people.
* * * *
Describe the service.
The music was outstanding. They had a choir with lead singers, and the people were engaged in worship. It was wonderful. My only criticism was that I had no way to follow along with the music … no hymnals and no screens with the words. The choir had a good mix of ages and would appeal to any age group. During the service, the leaders greeted the church and encouraged everyone to greet one another. The pastor was excellent and did a great job of integrating his personal life with how he tithed, the topic of his message. This made it more personal and set an example. He articulated himself well, was prepared and challenged us to rise up and meet the needs of the community. The entire service lasted a little over an hour. There were no visual aids.
* * * * *
Overall, how friendly would you say the church was to you during your visit?
I would not consider this church unfriendly, but I didn't experience anything that would indicate that they intentionally tried to connect with me either. When I left, not one person spoke with me.
* * *
Would you return to this church?
I would definitely consider returning. The music, message, length and flow of the service were appealing to me. I would encourage others to attend here as long as they don't feel out of place being of a different ethnicity.
* * * *
*Adapted from a report provided by Faith Perceptions, which has evaluated more than 2,500 worship services across the United States. Visit FaithPerceptions.com.