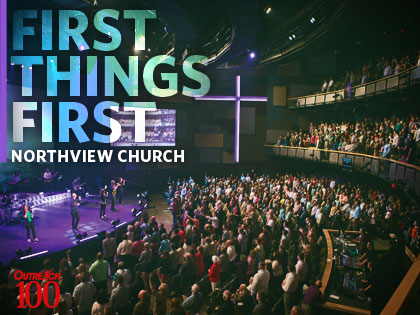 Guests receive personalized VIP service at the nation's #5 Fastest-Growing Church, and it's causing people to stick around.
View the complete Fastest-Growing list >>
Northview Church
A 2013 OUTREACH 100 CHURCH
#5 FASTEST-GROWING, #85 LARGEST
If you can get from your car to your seat at Northview Church without being greeted several times, then something's wrong. This is a church that is hyperfocused on making sure every visitor feels comfortable—and that starts in the parking lot.
"We know that anyone who comes to a church for the first time is feeling extremely awkward and nervous," says Lead Pastor Steve Poe. "We want them to feel at ease."
The church decided it wasn't enough to acknowledge guests inside the door, so this fall they put up tents outside the main entrances, allowing volunteers to welcome visitors before they even enter the building. Each guest or family is then matched with a trained greeter who shows them around inside, including the free coffee shop and restrooms.
It's a strategy that comes from the top down: Poe strives to meet every newcomer either before or after the service.
"When we do our Starting Point class for new people, I always ask why they returned to the church after their first visit, and the No. 1 thing—there isn't even a close second—is always their surprise that a pastor in a church this size took the time to talk with them," Poe says. "That's why being friendly is so important."
NORTHVIEW CHURCH Carmel, Ind.
Lead Pastor: Steve Poe
Twitter: @NorthviewCarmel
Website: NorthviewChurch.us
Founded: 1980
Affiliation: Nondenominational
Locations: 3
Attendance: 6,595
Growth in 2012: +2,201 (50%)