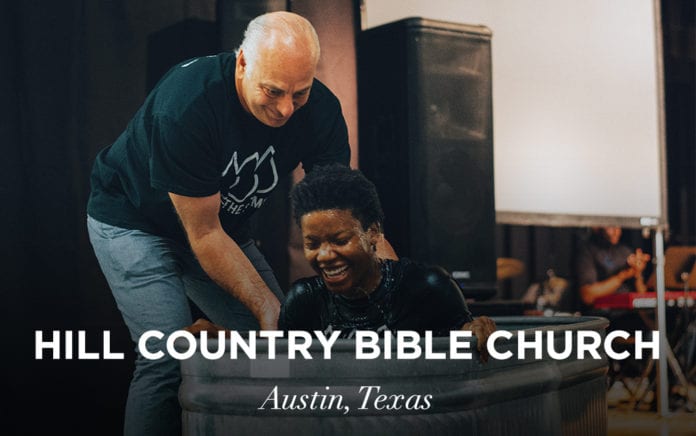 Hill Country Bible Church Understands the Importance of Equipping and Sending
Thirty-four years ago, 17 laypeople in the growing city of Austin, Texas, had a dream to start a major movement of faith in their community, so they launched Hill Country Bible Church (HCBC) in January 1986. Three years later, they contacted Tim Hawks to ask if he would become their lead pastor. At the time, the church was meeting in a shopping center with 180 people. But that soon changed.
"Every time we added a service or knocked out a wall in that shopping center, we filled the place up," says Hawks. "Not only that, but people were driving 30 and 40 minutes for worship."
The church began discipling lay elders and raising up church planters, planting their first church in 1996.
"We took people who lived in an area and hived them off to start similar churches with a couple hundred people," explains Hawks.
Then one day Hawks met with a handful of men from Mexico City who wanted to know how they could plant churches to reach their city of 24 million people with the gospel. Driving home from the meeting, Hawks had a revelation. "The Holy Spirit knocked me upside the head and said, Tim, you're not trying to reach all of Austin. You're just trying to take care of the people you have and plant a few churches that are similar to yours."
When he returned home, Hawks started praying with the elders, which resulted in the creation of the Association of Hill Country Churches (AHCC).
"To reach every man, woman and child in greater Austin, we needed not to be a collecting community but a releasing community," says Hawks. "We knew we must rapidly plant churches and deploy disciples."
In Acts 1:8, Jesus talks of saturating the geography with the gospel. Hawks and his staff recognized that the traditional church approach—spending a lot of money on a structure and a staff—was not necessarily the way to go.
"We would never be able to deploy enough people just pulling them all to one location," says Hawks. "That forced us to think, How do we equip believers to go out and impact the places where they live, work and play? How can we rapidly plant expressions of the body of Christ in those areas?"
To date, the AHCC has planted 38 churches in greater Austin.
"When I say 'planted,' I mean we either raised up the church planting teams or funded and coached them in our residency program, then deployed them into a specific geography in the city," explains Hawks. Even though HCBC has given away millions of dollars and thousands of people, Hawks doesn't sweat it.
"There's never been a time that we've given something away when God didn't replace it," he says.
This past spring, Easter attendance at the mother church, combined with all of HCBC's church plants, was 26,000 people.
"Some may feel that by planting churches you're diminishing your influence," says Hawks. "But we would never desire to build the kinds of facilities, own the kinds of property and manage the kind of budget required to get 26,000 people in our doors on Sunday morning."
According to Hawks, in order to reach a certain geography of people, you can't just build a bigger church and expect people to come and receive. Instead, you've got to build up and send. This method can be challenging to implement, however, because if you empty the faith-oriented, God-trusting people out of an existing church to start missional work, you may be left with settlers who are not big-picture thinkers.
"If the mother church doesn't continue to evangelize and raise up people, you can send out all your people on the first church plant," says Hawks. Then again, he feels that the power of the church lies in the ordinary.
"The gospel comes to ordinary people by the power of the Holy Spirit," explains Hawks. "If you think in terms of a few superstars who are gifted at being the main focal point of the movement of God, that really diminishes what the priesthood of believers is all about."
Encouraging everyday believers to fully embrace their calling, however, is at the heart of the gospel. "That requires opening up new avenues and opportunities for the Spirit to work in people," says Hawks. "Churches can confine that impulse of multiplication if they're not careful."
He maintains that the calling of a pastor is to empower and inspire leaders.
"You're not risking if you send people out into the mission," he says. "You're only risking if you view it as losing something that belongs to you. And this is all Jesus' mission."
—Christy Heitger-Ewing
HILL COUNTRY BIBLE CHURCH
Austin, Texas
Lead Pastor: Tim Hawks
Website: HCBC.com
Founded: 1986
Denomination: Nondenominational
Church-Plant Affiliation: Association of Hill Country Churches
Locations: 4
A 2019 OUTREACH 100 CHURCH
Attendance: 5,925
Reproducing: √