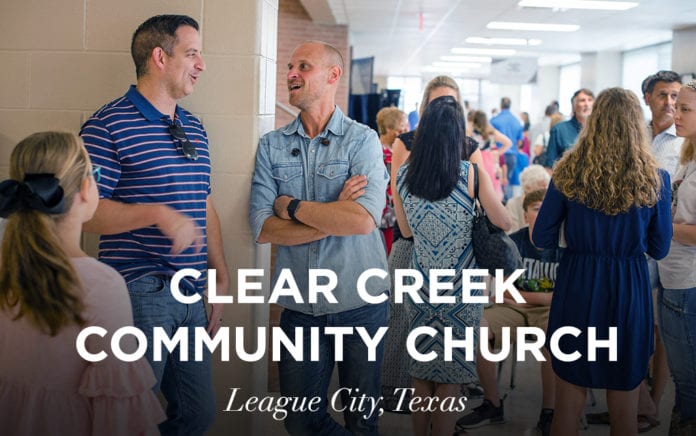 Multiplication of Churches and Disciples Is Key to Clear Creek Community's Vision
For Clear Creek Community Church in League City, Texas, the key to multiplying churches is multiplying disciples.
"That's the kind of thing that fuels the mindset that church isn't the place I'm going on a Sunday to sit in the pew, but it's about the mission of Jesus advancing in the world," says Clear Creek Founding and Senior Pastor Bruce Wesley. "Churches that aren't raising up newly equipped, empowered disciples are not going to be sending out hundreds of people from their church to go plant other churches, because it feels like we're just cutting off part of our body. But people who have this robust disciple-making process, I think, not only feel the freedom to do that, but the responsibility."
Multiplication—of the church and of disciples—has been part of Clear Creek's vision since its founding in 1993.
"At a prayer movement years ago, a bunch of churches came together and really began to chip away at the barriers we felt with one another both ethnically and denominationally," he says. "We were talking about a city-reaching movement. We studied a lot about the components of city-reaching movements in other global cities. One key component is church planting. When we planted Clear Creek 25 years ago, the thought was that when we got to a place where we could contribute in a healthy way, we would seek to help develop a city-reaching movement through the multiplication of churches in the city."
For the first decade or so, Clear Creek's involvement in church planting was limited in order to devote more attention to building Clear Creek. But beginning in 2005, it developed a church-planting strategy out of Acts 1:8. Its local (Jerusalem) focus became its immediate geographic area in southeast Houston. Its Judea/Samaria is greater Houston. And the ends of the earth are, naturally, its global focus.
In 2007, Clear Creek turned its focus to its local area by going multisite. Today, there are five campuses in the Clear Lake area of Houston, and, says Wesley, they hope to launch several more in the next decade. Additionally, they partner with church planters and other local churches to see every person in their region reached with the gospel.
In 2009, they began addressing multiplication in the greater Houston area. Since that time, they've helped train and resource planters who have gone on to plant 42 churches in greater Houston, of which 37 are still active. Additionally, Clear Creek launched the Houston Church Planting Network (HCPN)—an interdenominational, ethnically diverse network of around 30 other networks—that supports, trains and provides resources for church planters and local churches aiming to plant in greater Houston.
"It's kind of a clearinghouse for anyone who wants to plant a church or who wants their church to get engaged in church planting," Wesley says. "HCPN tries to create collaboration for people so that together, with other churches, they can do what they can't do alone."
More than 100 churches from multiple denominations and networks affiliate with HCPN and have committed to planting churches across Houston. Collaboration between HCPN churches has been key to seeing the city effectively reached.
For the past 15 years, Clear Creek has also helped to plant churches globally by partnering with indigenous church planters in places like Ukraine, Honduras, England and Brazil. But most of its international work has been in Cuba, where the church has helped local apostolic leaders grow a network of house churches that now numbers more than 600 around the country.
"We do missions that result in church planting," Wesley says. "Our folks are working with and helping to fund those indigenous church planters while they also work in compassion ministries or justice ministries in those locations."
Clear Creek's dream is to see multiplication at each of those geographic levels, and among disciples, groups, campuses and churches—especially among disciples. As one of the fastest-growing cities in the country, Houston is fertile soil.
"The big-church movement may not be over, but there are places that the big-church movement—and Clear Creek is a large church—will not reach," Wesley says. "The only way we're going to push darkness out of every corner of the city is when we launch churches into those communities. There are unreached people that new, small churches can reach that larger or established churches will never even get to speak to. So, we can't be responsible to our city or even beyond if we're not regularly launching new churches."
—Jessica Hanewinckel
CLEAR CREEK COMMUNITY CHURCH
League City, Texas
Senior Pastor: Bruce Wesley
Twitter: @BruceWesley
Website: ClearCreek.org
Founded: 1993
Church-Plant Affiliations: Houston Church Planting Network, Acts 29, Saturation Church Planting Intl., Gospel Collective, Christ Together
Locations: 4
A 2019 OUTREACH 100 CHURCH
Attendance: 5,112
Reproducing: √