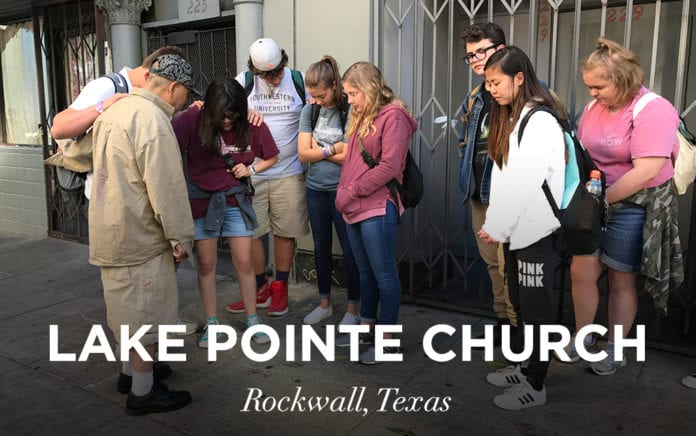 Lake Pointe Church Multiples Healthy Churches in Major Cities
As a large, 40-year-old church in the Dallas metro area, Lake Pointe Church is one of many churches dotting the Texas landscape. And it's grown over the years to six campuses in the region, honing its church multiplication through local multisite growth with each campus established.
"God has commanded us to make disciples, and he's given us a toolbox," says Lead Pastor Steve Stroope. "In that toolbox are mini tools including multisite campuses and church planting. It's important that we choose the right tool in the right circumstance to get the right results. We limit ourselves when we deify one tool over another."
Beginning in 2001, Lake Pointe partnered with Nelson Searcy to plant The Journey Church in New York City. For Lake Pointe, that was the start of a heritage of church planting in some of the most unchurched, spiritually underresourced cities in North America. Since 2005, they've planted more than 40 churches in places like Denver, Boston, Montreal, San Francisco and Portland.
"We believe God has called us to focus our church-planting efforts, with few exceptions, in major cities that have an evangelical population of less than 10%," Stroope says.
When setting out to plant a new church, Lake Pointe starts by looking for a God-called leader with a gift for teaching. Using a series of personality profiles and asking successful church planters to help them vet candidates, they select a church planter. Lake Pointe then "pulls together other like-minded churches and takes them on a vision trip to the region," Stroope says. "We ask them to make a three-year commitment to provide support for the church planter by way of coaching, teams and finances."
After three years, the church plant should be self-sustaining, but Lake Pointe and the other churches maintain a fraternity of church planters who can resource and encourage one other. The churches Lake Pointe has helped plant have experienced such significant growth that many new church planters in these cities reach out to them for resources and assistance. And Lake Pointe continues to work with and through these partner churches to advance its church-planting heritage.
The goal of those partnerships is to see anchor churches emerge in each major city where Lake Pointe has planted. Those anchor churches would then become hubs for even more planting, and for training, coaching and mentoring future church planters and planting teams. Additionally, those hub churches would ideally also raise up and send out the core team members for new church plants.
There's no time frame or number of church plants attached to those goals, though. Stroope says he's more interested in finding the right planters who possess the unique qualities of pastor-leaders and who have "good, conservative, biblical theology" rather than simply churning out church plants.
"We would rather start fewer healthy churches that are going to effectively make disciples and be here for years, eventually starting other churches, than to hit some number that was pulled out of the air," he says.
Recognizing the importance of cultural context to a church's ability to thrive in its community, Stroope isn't interested in planting replicas of Lake Pointe.
"These churches we have planted are not fashioned after a Lake Pointe model," he says. "We have not dictated that they must look just like our church. We recognize they have their own unique leaders, opportunities and challenges. We want them all to have the biblical nonnegotiables, which may be lived out in different ways in different places."
And when a new church can share the gospel effectively to a community that's never heard it, church planting can be an excellent way to make disciples.
"We are committed to continue to plant churches in places that need them the most," Stroope says, "and to help resource those churches to do an even better job of planting other churches as indigenous leaders in their regions. Multiplication is more effective than addition. Because the nation is growing faster than we are making disciples, we must plant more healthy churches that will, of course, plant other healthy churches."
—Jessica Hanewinckel
LAKE POINTE CHURCH
Rockwall, Texas
Lead Pastor: Steve Stroope, Josh Howerton
Twitter: @SteveStroope, @HowertonJosh
Website: LakePointe.org
Founded: 1979
Denomination: Southern Baptist
Locations: 9
A 2019 OUTREACH 100 CHURCH
Attendance: 12,377
Fastest-Growing: 84
Largest: 19
Reproducing: √