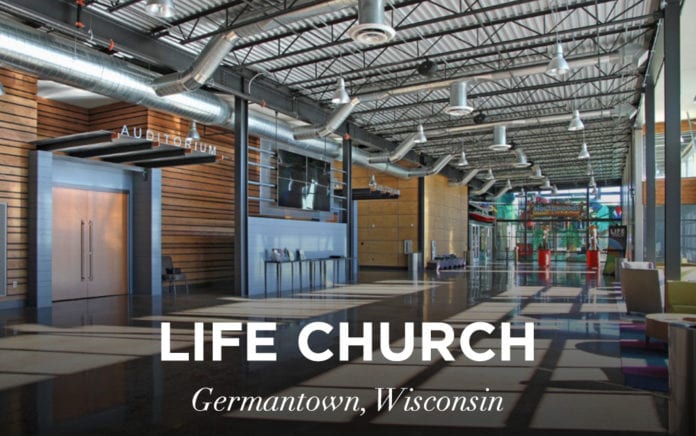 Dependability, Creative Communication Lead to New Growth
Abbey Brooks-Derzay never attended church growing up, but three years ago, as a survivor of sex trafficking, she decided to give it a try.
She walked through the doors of Life Church in Germantown, Wisconsin, and instantly felt accepted and welcomed. She started attending regularly and eventually joined the congregation.
"It was easy to be ashamed of myself," she says, "but the lessons and the Scriptures have really shown me forgiveness—how to forgive myself and not hold hate for other people and to forgive them."
Life Church is a multisite congregation with its main campus in Germantown, a suburb 30 minutes northwest of Milwaukee. The church's other three sites are in Milwaukee, Appleton and Brookfield.
"Missions is a big passion for us," says Senior Pastor Aaron Cole. "We always say missions is around the corner and around the world."
According to Cole, Life Church invests heavily in leadership development, pastoral training and church planting overseas. Additionally, the congregation partners with the faith-based nonprofit Convoy of Hope, a branch of the Assemblies of God that provides food and disaster services worldwide.
With an eye toward local missions, the church launched its Milwaukee campus in the inner-city neighborhood of Sherman Park in 2018. The idea came after the 2016 police shooting death of an African American man there and the unrest that followed, Cole says. The church secured a building and hired Robert Bell, a native of the community, to serve as campus pastor.
Today, the Milwaukee campus averages close to 200 attendees each weekend, and its Life Center houses an after-school program, a food pantry and other resources.
"We're trying to meet local needs right there in the community," says Cole, "so it's more than just a weekend church."
Unlike Milwaukee, Brookfield is a small, affluent city just 20 minutes south of Germantown. The church opened the 50,000-square-foot facility last March.
Appleton, on the other hand, is located a mile north of Germantown, the site of several major industries including paper, food processing and manufacturing. The church opened that campus in 2014.
"The demographics in Brookfield and Germantown are very similar," Cole says. "It's typical suburban America—young families, middle-aged families, upwardly mobile and professionals."
Cole, who is from Tulsa, Oklahoma, became Life Church's pastor in 2000, two years after it opened. He says establishing a new church in the Milwaukee metro area can be challenging because so many adult residents grew up associating themselves with the Catholic or Lutheran churches. Many, however, fall away from church once they reach adulthood.
But despite the challenge, Life Church is successfully attracting young couples and their extended families. He attributes the growth to the congregation's doggedness and keep-it-simple style.
"First, we charted a course and stuck with it," says Cole. "We've not paradigm shifted. We've just been here, week in and week out, day in and day out.
"Secondly, we decided a long time ago that we were going to be about reaching lost people. Third, we just keep everything simple."
They decided to focus on doing four things really well. Cole says the first is creative communication.
"Every time you come into a weekend gathering," he says, "we're going to use the most amount of creativity to tell this timeless truth."
The other goals are building community through life groups, being family focused by ministering to children to reach the whole family, and being missions and outreach driven.
What Cole has learned about spiritual leadership, he says, is based on Gal. 6:9–10. "I think the most spiritually mature thing we can do is not to quit. Looking back on the growth this year, we didn't do anything different than we did last year or the year before. We just kept doing it, and God blessed it."
Today, Brooks-Derzay says she is growing spiritually. She serves on Life Church's host team, greeting visitors before service starts.
"I always think about that first time when I started coming to church, and how I felt," she says. "I try to bring that same feeling to other people and make sure they know they're welcomed, regardless of who they are or where they came from."
—Gail Allyn Short
LIFE CHURCH
Germantown, Wisconsin
Lead Pastor: Aaron Cole
Website: LifeChurchWI.com
Founded: 2000
Affiliation: Assemblies of God
Locations: 4
A 2019 OUTREACH 100 CHURCH
Attendance: 2,191
Growth: +523 (31%)
Fastest-Growing: 17