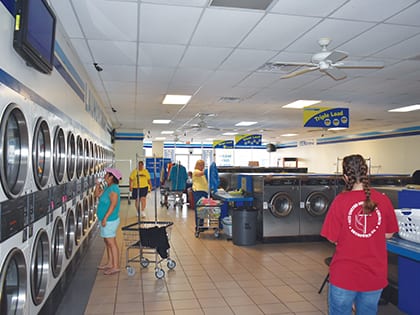 Serving Neighbors Practically, Spiritually and Relationally Through Laundry Outreach
The Church: Arco United Methodist Church in Brunswick, Georgia
The Challenge: Find a simple but effective way to connect with the community and serve a practical need
One Big Idea: Church members spend Saturdays at the laundromat putting coins in machines, helping fold and building relationships.
A man pulled up to a self-service laundry in Brunswick, Georgia, one Saturday morning to wash his clothes. When several people in matching T-shirts greeted him, he became suspicious. When he realized they were members of Arco United Methodist Church who just wanted to pay for and help him do his laundry, he was blown away.
The man was the first person Arco members helped as part of their Loads of Love ministry, where they spend four hours one Saturday a month at a local laundromat. They put coins in the machines, help customers carry their laundry to and from their cars and get to know people.
Loads of Love began last spring when Pastor Wesley Deverger heard about the ministry at a denominational conference. Arco is a small, older congregation, and Deverger was looking for new ways to help his members reach their community.
The church has held kids' puppet shows and rented a snow machine during Christmas, but the outreach that has proved most enduring and effective is Loads of Love. It doesn't cost much to operate, and it's an easy way for the church to meet its neighbors.
While serving at the laundromat, church members also hand out goody bags, entertain kids and pray with adults. After a few months, people began to plan their laundry days around Arco's presence.
"These people appreciate us and remember us," Deverger says. "That lets us know we're building relationships in the community."
Loads of Love has been so successful that it's had to move to a laundromat across town with more space and machines.
"It's gratifying to see our members striking up conversations and building relationships without me telling them to," Deverger says. "It's amazing how they've moved to that point. I really believe God is working in this ministry."