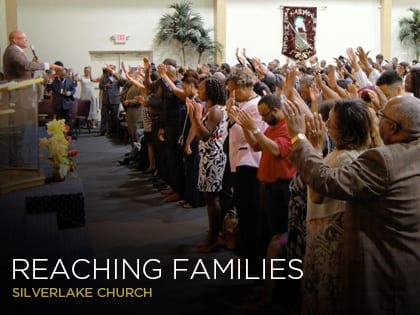 Silverlake Church Connects to Community Through Families
If it weren't for a billboard bearing the church's motto, one member of Silverlake Church would have never attended services there, according to Pastor Reginald DeVaughn.
The billboard featured pictures of families at the Pearland, Texas, church and characterized Silverlake as "the church beyond Sundays," the pastor says.
The sign "actually drew them to the church," DeVaughn recalls of the parishioner, who wasn't active in church previously.
Silverlake uses all types of methods for getting people to visit, according to the pastor. "We just want to get people to the church," he says, "and the word of God will take care of everything else."
DeVaughn believes Silverlake has steadily grown over the past two decades because of his preaching and teaching of "the simple gospel," the church's outreach to youth and the welcoming nature of the worshipers.
"I really focused on teaching people by way of God's word," he says. "Give and it should be given unto you. Don't focus on the money but focus on the kingdom of God, and all these other things will be added." As a result, Silverlake has never had to hold fundraisers and the like to make ends meet.
Although the foundation of the church's ministry never changes, DeVaughn says he's had to adjust how he transmits his message over the years. Many young professionals attend his services and "time is very important to them," he says. "They want to come and do a great worship and then get on out of here."
Attracting these individuals to special church events, such as Founders' Day or the church anniversary service, can be challenging. So, DeVaughn incorporates such events into Sunday morning worship rather than observe them on other days of the week, when congregants may be hard pressed for time.
Pearland, a suburb of Houston, is a very unique community, according to DeVaughn, who moved there 20 years ago. "I grew up in an inner city, so coming out here… It really shocked me," he says. "I would go to events and see just as many fathers as mothers. It totally blew me away. It's a totally family-oriented community."
Some of the young professionals in Pearland have never experienced church, the pastor says. So, Silverlake has learned to reach out to them by meeting the needs of families.
Once newcomers arrive at Silverlake, they can expect to be welcomed like family.
"We're a very friendly, loving church," DeVaughn says. "We believe in hugging, kissing one another and just enjoying our brothers and sisters."
SILVERLAKE CHURCH
Pearland, Texas
Senior Pastor: Reginald DeVaughn
Twitter: @Pastor_DeVaughn
Website: TheSilverlakeChurch.net
Founded: 1995
Affiliation: Nondenominational
Locations: 1
A 2015 OUTREACH 100 CHURCH
Attendance: 2,684
Growth in 2014: +424 (19%)
Fastest-Growing: 41