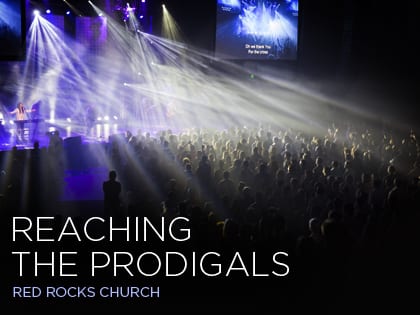 Red Rocks Church Draws Unchurched in Colorado
Pastor Shawn Johnson of Red Rocks Church in Golden, Colo., still remembers meeting the man who now runs its addiction recovery program.
"The first time I met with him he had a shotgun shell in his hand and said, 'This was the bullet I was going to kill myself with,'" Johnson recalls.
Johnson met with him weekly and the man, who previously couldn't hold down a job or maintain a relationship, turned his life around.
"It's been about two years and just a couple of months ago I did his wedding," Johnson says. "He's working in his dream job now and runs our Celebrate Recovery ministry. He reaches out to addicts every single day."
Johnson says that his church attracts nonbelievers by creating an environment where lost people feel comfortable. This means making sermons, music and even church sites relevant to "prodigals," as Johnson calls the unchurched.
To keep up with its thriving congregation and draw even more worshipers, Red Rocks has purchased four buildings in the past 18 months.
"Our strategy is to buy crappy facilities in different locations around the city," he explains. "Our goal is to be the most generous church we know. We don't look for really nice facilities. One of our biggest campuses is a rundown theme park. Our second campus is an old decrepit movie theater. Our third campus was a Vietnamese grocery store."
No site goes unused, as 2,000 newcomers have started attending Red Rocks in the past year-and-a-half, according to Johnson. While that's rewarding, growth also brings challenges.
"Sometimes it feels impossible to keep getting all of the new people connected in a meaningful way to a small group inside of the community," Johnson says.
He also says growth can be financially challenging because it takes time for newcomers to start giving to a church.
While Red Rocks attendees come from all walks of life, they largely resemble Denver's demographics in that they tend to be "primarily very young, very educated and pretty well off," Johnson says. Evangelizing to this notoriously hard-to-reach population motivates the pastor.
"The reason we wanted to have a church in Denver is because young, educated, well-off people don't think they need God," Johnson says.
But Red Rocks' exponential growth signals just the opposite.
RED ROCKS CHURCH
Golden, Colorado
Senior Pastor: Shawn Johnson
Twitter: @ShawnJohnsonRRC
Website: RedRocksChurch.com
Founded: 2005
Affiliation: Nondenominational
Locations: 4
A 2015 OUTREACH 100 CHURCH
Attendance: 7,654
Growth in 2014: +1,358 (22%)
Fastest-Growing: 17
Largest: 55