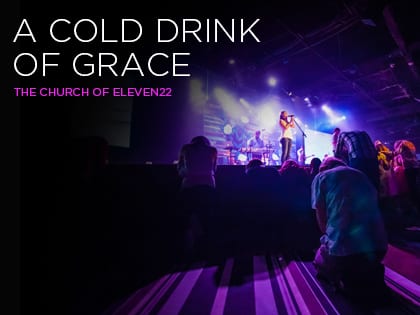 The Church of Eleven22 Accepts People Just Where They Are
She used heroin and drank too much. And even after Julie Ryan lost her boyfriend to addiction, she still couldn't shake her own.
She ended up living in a Florida shelter where a member of the Church of Eleven22 brought videos of the sermon each week. "They don't really let up," Ryan says of the church's members. "They love on their people so much."
She's one of them now. After experiencing spiritual rebirth and one-on-one discipleship, Ryan helps break others' chains of addiction by leading people through rehab and to Christ.
Welcoming the broken is more than just a slogan for the Jacksonville, Fla., church.
Lead Pastor Joby Martin won't soon forget the harsh response he saw from leaders of a church where he once worked. Martin also worked at a gym where strippers worked out, and one woman wanted to go to church with him.
That Sunday, the leaders grilled Martin in an impromptu meeting, asking why he brought her to their congregation. She didn't fare much better herself. Crying on the drive home, she told Martin that she saw church members' looks and felt their stares—and felt more degraded in that church than she ever felt while working in the club.
"That marked me," Martin says.
It wouldn't happen like that if he had his say. Martin worked as a youth pastor for 15 years and often thought of how he would do things if he had a church. In 2012, the Church of Eleven22 became his opportunity. "We're willing to accept people just where they are," he says.
The gathering was originally named after its service time—11:22 a.m.—at another church. Once the church launched on its own, the name Eleven22 stuck, though they now tie it to the passage in Mark 11:22: "Have faith in God."
It's a place of serious Bible teaching and passionate worship—minus pretense. Visitors may be underwhelmed, according to Martin. But he suspects that God's favor is at work behind their growth. They are faithful to disciple the people whom God has brought their way, and those disciples, such as Ryan, now disciple others.
But in this Bible Belt city, many people have years of church experience. "And most of it isn't that great," Martin says. Often locals feel condemned, like they can't keep up with the rules of a familiar "don't drink, don't smoke, don't chew" mentality.
The Church of Eleven22, however, is a cold drink of grace. "It's not a place where you have to fake it, and tell everybody it's going great if it's really not," Martin says.
Mostly, people know if you care more about how they're doing than what they're doing, Martin says. "No one wants to feel like a project, me included."
In Ryan's case, she feels like she's living out Psalm 40:1-2. She waited patiently for the Lord and he heard her cry, and set her feet on a rock. She believes that the "rock" in the verse can be the rock bottom of addiction, or the solid ground she found at the Church of Eleven22.
"All people, no matter how broken, can have a relationship with Jesus," she says. For those who feel like they are so far from grace, Ryan says, "We can come as we are."
THE CHURCH OF ELEVEN22
Jacksonville, Fla.
Senior Pastor: Joby Martin
Twitter: @JobyMartin
Website: COE22.com
Founded: 2012
Affiliation: Nondenominational
Locations: 2
A 2015 OUTREACH 100 CHURCH
Attendance: 5,720
Growth in 2014: +1,482 (35%)
Fastest-Growing: 3
Largest: 89