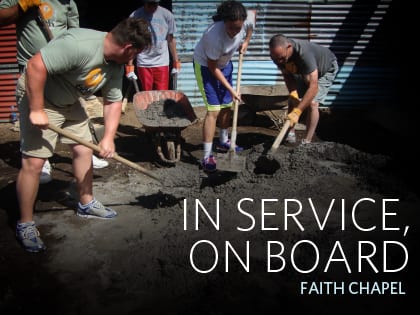 "When you can get somebody to serve, they feel a part of things."
At Faith Chapel in Billings, Mont., Lead Pastor Nate Poetzl wants parishioners to understand their church experience as being more like an aircraft carrier than a cruise ship. An aircraft carrier doesn't shuttle passengers. Every person on board is there for a reason and has a vital role to play.
Conversely, he explains, people often think of North American churches like cruise ships, where passengers show up, are entertained and return the next weekend until they find a more exciting cruise somewhere else.
"When you can get somebody to serve, they feel a part of things," he says.
He sees meaningful service as a key component of discipleship, one that has the by-product of engaging and retaining congregants. Thus, the church tries to introduce new members to it early.
"We believe that if you can get people's hands on service," he says, "they begin to experience it, [and] it involves the whole of who they are. Development happens in the midst of going."
Poetzl points to the story of Jesus healing the demoniac and then sending him home to reach others. Jesus did not train him first, Poetzl notes. Instead, almost immediately after his conversion, the man was a missionary.
At Faith Chapel, "going" can be anything from making sandwiches and cookies for the local rescue mission to picking up trash in Billings, and assisting during natural disasters after completing formal FEMA training to providing car maintenance to congregants in need. Others can join a moving crew or fulfill a need in the church's "I Have, U Need" forum. More than 60 different service opportunities are available during Sunday services alone.
Over the past year, more than a third of the congregation, which averages 3,800-4,000 attendees each weekend, served at least once a month. Poetzl thinks Faith Chapel's focus on both talking and doing, on embodying both the message and mission of Jesus, is the reason people return. For more tips on making your church less like a cruise ship, visit OutreachMagazine.com/Aircraft-Carrier.
FAITH CHAPEL
Billings, Mont.
Website: FaithChapel.cc
Lead Pastor: Nate Poetzl
Founded: 1977
Affiliation: Foursquare
Locations: 1
Attendance: 3,800-4,000