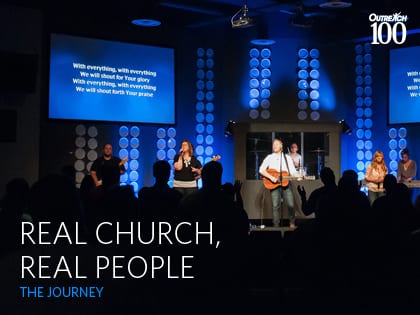 The Journey Challenges Perceptions in America's Northeast
The Journey church in Newark, Del., periodically organizes worship services where the public can submit any question they like about religion, the Bible and life. Known as Hot Seat Weekend, the event last fall drew an unchurched visitor in the midst of both physical and spiritual trials, according to Pastor Mark Johnston.
Sedentary, overweight and disconnected from God, the man couldn't walk more than a mile without pain, but he decided to join a small group at The Journey in which participants routinely ran together. In the group, he met a man who encouraged him to walk and, later, to run, Johnston says. Before long, the two men ran a half-marathon together.
"Running that race basically became a metaphor for his life," Johnston says. It revealed that spiritual investment in oneself improves not only the mind but the body as well.
Today, the marathoner helps serve at The Journey and "considers himself to be a follower of Christ," Johnston says.
The pastor also pointed out that his church uses a simple model to reach people. The Journey's motto is "real church for real people" as the church body strives to connect with people authentically.
"Our first strategy is to be a real place where people continue to be real," Johnston explains. "We make a real authentic attempt to tackle the issues and the questions that drive their lives."
Johnston says that the church leaders never hold any one person responsible for driving growth at The Journey because they believe God serves that function. Instead, they tell leaders to "get whatever is in God's way out of the way," so that growth occurs. Lastly, Johnston says the church tries to create opportunities for people that will lead to growth.
Today The Journey has five identical worship services, but the church started seven years ago with just Johnston, his wife and his mother-in-law as members. Over the years, the church has overcome its share of challenges.
"There are more valleys than mountains," Johnston says. "I think you spell growth h-a-r-d."
Johnston says that neither he nor the other church leaders had experience in a church larger than a few hundred people, so when The Journey's congregation swelled to 1,000, the staff lacked context for what it was like to lead a church of that size. In addition, he notes that the church found itself understaffed as the numbers of worshipers there rose.
Johnston did not expect to confront such problems when, years ago, he encountered people who doubted The Journey's ability to expand in the highly unchurched Northeast.
"Working in our state, people just assumed that our church wouldn't grow," Johnston recalls. "I had to sift through a lot of that."
Located in a suburban community near the University of Delaware, The Journey's neighbors include many affluent residents who don't take part in organized religion, according to Johnston. But The Journey does attract significant numbers of young people.
"We reach a lot of young adults who have some church background in the past but checked out on it a long time ago, and they get renewed," Johnston says.
The Journey has also attracted members of the Catholic faith and people new to Christianity.
A few years ago The Journey welcomed 40 to 50 converts a year, Johnston reports, but today that number has increased 18-fold, with 900 people professing their belief in Jesus this year alone. Their ballooning attendance challenges the perception that Delaware is no place to plant a church, says Johnston.
"It's been kind of fun to see that turned on its head."
THE JOURNEY
Newark, Del.
Lead Pastor: Mark Johnston
Twitter: @markjohnston
Website: YourJourney.tv
Founded: 2007
Affiliation: Nondenominational
Locations: 1
Attendance: 1,005
Growth in 2013: +366 (57%)
Fastest Growing: 30