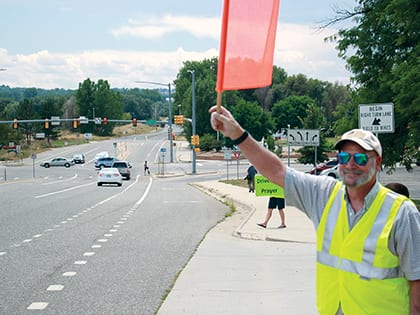 Offer the convenience of drive-thru prayer to your community.
THE CHURCH
City on the Hill Church in Boulder, Colorado
THE CHALLENGE
Find a novel way to reach people.
ONE BIG IDEA
Pray with passers-by.
Volunteers manning a drive-thru prayer lane in Boulder, Colorado, offer those seeking prayer support not only convenience but also personal encouragement. According to Steve Shank, senior pastor at City on the Hill Church, it was his wife, Chanler, who first presented the idea of drive-thru prayer at an elders meeting.
At the time, the church's outreach team was already setting up prayer booths at local festivals and visiting laundromats to pay for users' loads of laundry while sharing the gospel. However, it took a year for the prayer-lane idea to catch on.
"She just kept bringing [the concept] back," says Shank. "Finally, I said, 'Let's do this.'"
Today, the church, which averages an attendance of 150, hosts its drive-thru prayer lane from 1 to 2:30 p.m. after church services on the second and third Sundays of each month from mid-May to mid-October. On those days, the outreach team directs people driving along busy 75th Street and Arapahoe Road into the church parking lot where volunteers are available to pray. The person who doesn't even have to get out of their car.
"We average four or five cars," says Shank, "but have had as many as 17."
Volunteer Lisa Price says people have come with prayer requests for jobs, healing and direction, but others pull up because they are just curious. She recalls a humorous moment when one man rolled up on his Harley-Davidson motorcycle.
"He said, 'Prayer is something that should be on my bucket list,'" Price says. "Being prayed for was a new experience for him."
About half who drive up are Christians, says Price, but many are not. Once she prayed with a couple that had gotten lost on their way to a marijuana clinic.
"The young man said, 'It's the weirdest thing. I put the clinic's address in my phone, but the GPS sent us to your church,'" Price recalls.
Shank says drivers regularly express their gratitude, and one woman who received prayer in the parking lot even attended a church service.
The outreach team benefits, too, Price says. "It gives us a sense that we're doing what Christ would do if he were here, sharing, loving people, restoring hope."