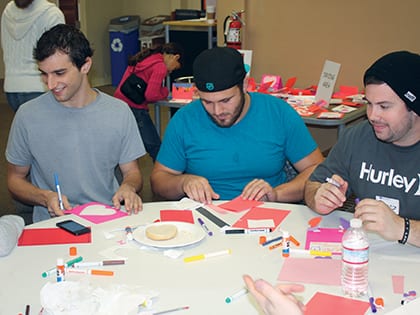 Deliver Valentine's Day cards to residents of homes for the disabled and convalescent.
THE CHURCH
Shoreline Community Church in Monterey, California
THE CHALLENGE
Reach out to the community on Valentine's Day.
ONE BIG IDEA
Make cards for residents of convalescent homes.
"I made this card for you. Happy Valentine's Day."
A middle school student gave a handmade card to an elderly woman at a local convalescent home. She smiled, happy to receive the card—and the visitor.
For the last several years, the middle school youth group at Shoreline Community Church in Monterey, California, has crafted Valentine's Day cards to deliver to two local convalescent homes and a home for the intellectually disabled.
"One Saturday, we make the cards and another Saturday, we deliver the cards to the different care centers," says Shannon Krueger, a volunteer who has led the event.
The church ensures that the card-making day is a fun event for everyone. "The middle school director brings refreshments and I get the supplies to make the cards," she says. "It's not just for the students. We've had many families come, as well as adults who enjoy crafts. People enjoy getting to know one another better as they make their cards."
Additionally, Krueger chooses Bible verses to write inside the cards to remind the recipients of God's love for them.
As enjoyable as making the cards is, Shannon says the best part is delivering them. "We go from room to room and hand-deliver the cards," she says. "We visit with the people and explain who made the cards and we pray with the people. People want to know that they are seen, that they matter. When we deliver the cards and pray with the people there, it is encouraging for the recipients and the volunteers alike.
"Most of the people we visit aren't able to leave to attend church, so we bring church to them," Shannon says.