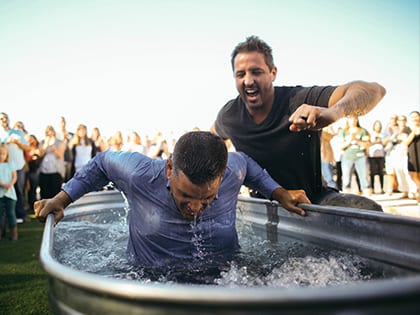 No. 15 Fastest-Growing: Rock Point Church in Arizona Stresses Authenticity
At Rock Point Church in Queen Creek, Arizona, being genuine matters. Pastor Bill Bush says it plays a big role in letting newcomers to the church know they can be themselves.
"We use a lot of humor, and we let them know, 'Really, it's OK to laugh,'" he says. "Being us, being real, being clear we meet people where they are. People tell us all the time, 'We love how real you guys are.'"
But Bush says his sermons aren't all laughter. After he makes the congregation laugh, he often delivers convicting truth and then "we hug it out at the end," he says. Bush's direct approach might be to ask churchgoers to reassess if God wants them to live a certain way or to remind mature Christians that they should be in church to give rather than take.
While parts of his sermons might make some people squirm, many others welcome the challenges he presents.
"I think Rock Point particularly does a great job of making people feel comfortable as they are," says Anthony Lorenzo, who began attending Rock Point nine years ago. "They're not intimidated … They like the pastor, and Bill has a way of delivering the message. He speaks the truth. It's not watered down. He has a gift of making people feel his passion, but it's not in a judgmental way."
Bush says the church is open to taking ideas from others and implementing them, but not without first adapting them to Rock Point's core principles.
"If there's an idea, we have to adapt it through the filter of who we are, what we are and what we're going to do. Do we even need this?" he says.
The church takes pride in functioning in a manner Bush describes as "efficiently effective." Rock Point doesn't invest in ideas that have no clear plan, but the church can't always avoid the unexpected.
It was caught off guard in a good way, for example, when a high school opened nearby. The staff decided to serve the school, and before long, teachers, coaches, students and their families began to attend Rock Point. The church even received an award from the school district for its volunteer work at the high school.
The Queen Creek community, near Phoenix, includes millennials, young families, semiretired people and elderly residents. The church launched a seniors' ministry to serve the aging population in the community, which Bush describes as middle class with a blue-collar ethos. That's because many residents earn a decent income working in industries like construction rather than in corporate America, he says. The community also includes a significant Mormon population and residents with an "Old West" mentality.
"You've heard of 'Don't mess with Texas'? Well, here it's 'Don't even look at Arizona,'" he says. "There's a rugged individualism."
As the leader of such a group, Bush has learned that the staff and congregation of Rock Point can survive just fine without him.
"In the last year, I've really come to the understanding that God doesn't need me or, for that fact, anyone in leadership," he says. "It's about the glory of God—what he wants us to do, not what he needs us to do."
Read more Outreach 100 fastest-growing church profiles »
ROCK POINT CHURCH
Queen Creek, Arizona
Lead Pastors: Bill Bush
Website: RockPointChurch.com
Twitter: @PastorBillBush, @RockPointChurch
Facebook: /RockPointChurch
Founded: 2002
Affiliation: Nondenominational
Locations: 1
A 2017 OUTREACH 100 CHURCH
Attendance: 2,605
Growth in 2016: +635 (32%)
Fastest-Growing: 15