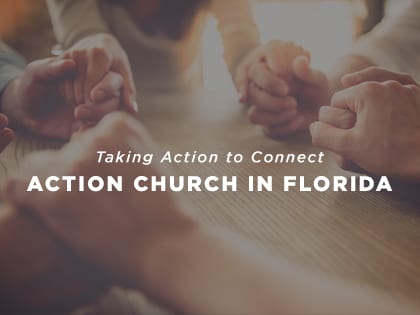 Pastor Justin Dailey talks about how to start conversations while showing love.
Who are you attracting in Winter Springs, Florida?
Our prayers have been that we would reach middle school, high school and college-aged kids and that they would bring their parents. We're really seeing a lot of kids who grew up in church, but it turned into their parents' church. We're the place where they really find Christ. They had religion at a different church, but they really just sat by their parents their whole life. They found a passion for connecting at a local church at Action.
How are you attracting this demographic?
We'll do anything short of sin to reach people. We don't care how you get here—we care who you meet and how you lead. We give away a ton of stuff. We're on the University of Central Florida campus giving away 500 Chick-fil-A sandwiches once a month with invite cards, starting conversations. We do the same thing at local high schools and middle schools. We'll give away 100 dozen Krispy Kreme doughnuts and invite kids to church. Not only are we on these campuses leading Bible studies and groups, but we're also really doing a ton of outreach. People ask, "Why are you doing this?" We say, "We want you to know that Action Church wants something for you, not from you. God loves you, and if you need a church, we'd love to see you at Action." A lot of the buzz in the younger crowd has been about our serving them, expecting nothing and showing love. Who's not going to have a great day after getting a free doughnut?
What happens if they visit Action Church?
Sunday is about reaching. By the time visitors leave on Sunday, we want them to know what their next step is. Every volunteer, every door holder, our info-center person—everyone's asking: "Did you enjoy church? Hey, we believe your next step could be this." The endgame is their joining our A-team, which would be either serving on Sunday, or an outreach, or leading a group.
How do they join the A-team?
We do what we call Action Steps every Sunday after every service. It's our growth track. We have childcare and free food. Visitors just stay an extra hour after the service. We have four different classes that don't build on each other. You can come and go, start at any point. The information is important, but the goal is to get people connected to the church and get them in the pipeline of making a difference in the kingdom of God. The next step is all personality and spiritual gifts. Then they're picking an area based on what they want to do or what they're passionate about. Around 83 percent of people who complete Action Steps join the team or lead a small group.
Can you share a story about someone joining the A-team?
We met Eddie at Publix supermarket when we were were giving away $5 gift cards. He was living in the world, successful with a family—but he was not following God and was making poor decisions. He said, "I need a church." He came our first Sunday, went through the whole deal. We hired him as our outreach pastor just last year. He went from lost to getting a gift card at Publix to finding his purpose and connecting with God and the church.
ACTION CHURCH
Winter Springs, Florida
Website: TheActionChurch.com
Launched: 2014
A 2016 OUTREACH 100 CHURCH
Attendance: 1,293
Growth in 2015: +553 (75%)
Fastest-Growing: 19