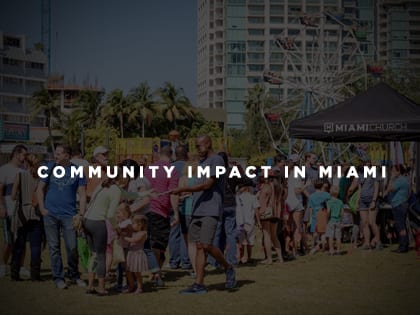 Church plant is committed to being a church for people who don't fit in at other churches.
The Church: Miami Church in Miami, Florida
The Challenge: Plant a church in an affluent, urban community that lacks a strong church presence.
One Big Idea: Partner with local groups and make nonbelievers feel welcome by holding services in a nontraditional location.
At Miami Church, half of the attendees fall into the unchurched category: people who may have never attended church or who previously belonged to a faith community but left after a bad experience. One man who regularly attends worship services at the church in the Coconut Grove neighborhood of Miami, Florida, even identifies as an atheist.
"I hate church, but I love our church," he told Pastor Greg Ingram.
The man, whom Ingram describes as super skeptical, began coming to church to please his wife, a believer. He only planned to visit once but returned because he felt so comfortable at Miami Church, which has an average attendance of 90. A hospitality professional, the man was particularly drawn to the church's location—on the 20th floor of a hotel.
"There's not an intimidating factor of walking into a church building," Ingram says. "We place a high value on hospitality. We go over and beyond to create a warm and welcome environment for people. People are very friendly and approachable. I'll look around most of the time, and there's no one standing around by themselves."
When Miami Church opened in September 2015 with a core of 30 people, Ingram figured that most worshippers would belong to young families. Instead, it has attracted people from all walks of life, especially single professionals.
South of downtown Miami, the church is in a strategic location near the ocean and parks. The area not only sees a lot of foot traffic but also community events. The church even partnered with a popular local pumpkin patch.
"We just talked to people and let them know about our church," Ingram says. "We couldn't do anything overtly religious, so we told people we were doing a brunch party at the patio at the hotel. Several families came and made the jump from the pumpkin patch to the brunch party."
Miami Church is also fostering a relationship with the Coconut Grove Business Improvement District, which organizes Fourth of July celebrations and other events. While the neighborhood stands out for its community gatherings, Ingram also describes the area as challenging.
"There are hardly any churches, and it's in a very, very expensive part of town," he says.
But Miami Church, an affiliate of the church-planting collective Orchard Group, purposefully launched in an urban center where churches have historically struggled.
"We knew it was going to be tough," Ingram says. "We knew it was going to be harder than to go to the suburbs or a 'bedroom' type of community."
Formerly on the pastoral teams of megachurches in Chicago and San Antonio, Ingram says it will take time to gain the trust of community members and assess their needs. He doesn't believe there's a magic formula to church planting.
"Everything we do, we steal from others," he says. "There are no original ideas. I just networked with tons of other church planters and have taken their ideas and contextualized them."
For now, he's pleased that Miami Church has managed to attract a diverse group of people. More than 17 countries are represented in the budding congregation.
"They're committed to being part of a church with people who don't fit in at other churches," he says.
MIAMI CHURCH
Miami, Florida
MiamiChurch.com