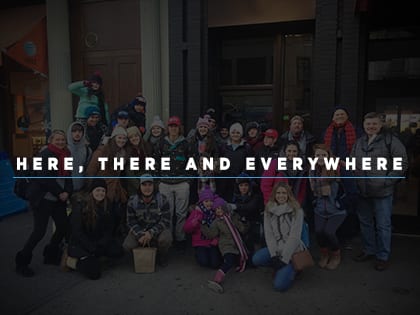 "We knew a small-town church had to do something out-of-the-box if it was going to survive."
The Church: Dublin First Baptist Church in Dublin, North Carolina
The Challenge: Turn a small, rural church into a multiplying, mission-minded one.
One Big Idea: Stay faithful in the small things, and God will broaden your ministry.
Most families who vacation in White Lake, North Carolina, probably don't expect their carefree summer to become a transformational encounter with Jesus. But that's exactly what The Lake Church has done for many of the thousands of the resort's seasonal residents, not to mention ministering year-round to some of the 500 retirees who call White Lake home.
The Lake Church is the second campus of Dublin First Baptist Church, a rural congregation about 20 miles away in Dublin, North Carolina.
Dublin First has also partnered with a Hispanic church in New York City and a church in Moldova, the poorest country in Europe. It supports other missions and ministries, holds regular community outreaches and instituted Operation 19K, an ongoing initiative to reach the county's 19,000 unchurched people.
As Senior Pastor Cameron McGill says, they embrace "any opportunity that God would open up for us to show our community that our church isn't an exclusive club, but the hands and the feet of Jesus."
It hasn't always been this way. When McGill arrived at Dublin First Baptist in 2000 at age 26, he found a smaller, older and more insular congregation.
"With the tendency of churches to be plateaued or declining in recent years, we knew a small-town church had to do something out-of-the-box if it was going to survive," he says.
And his desire wasn't just for Dublin to survive. He wanted it to thrive, and that meant fixing what was broken. They adopted a missions philosophy of "Here, There and Everywhere," taken from Acts 1:8.
McGill's approach to becoming a New Testament church was slow and intentional. His first year was all about teaching what the Bible says the local church should look like. Then he spent 10 years loving the people, earning their trust and demonstrating his loyalty.
"So many times a pastor goes into a church and wants to blow it apart so he can rebuild it," McGill says. "But there needs to be a sense of respecting their traditions and their community within the church."
Over time, church events became strategic opportunities to share the gospel, not just entertain church members. New faces joined, and people began thinking about themselves not as a church, but the church.
They partnered with the church in New York, then reached farther, to Europe. Most recently, they replicated themselves with the White Lake church plant.
"For us, getting to New York and Moldova helped our people see the struggles of church outside of the Bible Belt," McGill says. "They have no money, no resources."
It put Dublin's own limitations into perspective. They even canceled plans to build a $2 million sanctuary when they learned the International Mission Board was bringing home several hundred missionaries for lack of funds.
"It broke our heart," McGill says, "and we realized we couldn't throw money into this project knowing we're not doing all we can to support missions."
Mission-mindedness and multiplication are philosophies the entire church, from Dublin to White Lake, has come to support, one step at a time.
"These people have bought into the philosophy of what we're doing, that it's not about coming to a service once a week," McGill says. "It's a lifestyle."
DUBLIN FIRST BAPTIST CHURCH
Dublin, North Carolina
DublinFBC.org