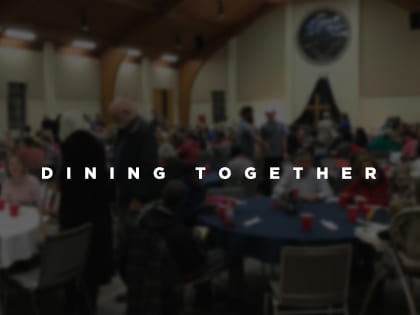 Conyers Presbyterian Church provides free dinner for around 75 members of the community every week.
The Church: Conyers Presbyterian Church in Conyers, Georgia
The Challenge: Find a way to serve and connect with needy families in the community.
One Big Idea: Invite the community to join church members for midweek dinners paid for by the church.
After not attending church for decades, Daniel Scott walked into Conyers Presbyterian Church in Conyers, Georgia, last fall. His power had been turned off, and he and his wife struggled to prepare dinner on their wood-burning stove. So when they spotted a sign advertising a free Wednesday-night meal at Conyers, they seized the opportunity.
"We had one of the best meals I had eaten in weeks; the salad line was fresh and full of many choices, and the smiles from each member serving along the line were sincere," Scott says.
Now, he and his wife attend the church regularly and have even joined the choir.
For two years now, Conyers Presbyterian has offered free meals to community members. Church elder David Bigham came up with the idea to expand the midweek to the public. Donations and money the church earned from renting its lot to film production companies fund the effort. Typically, about 75 people show up.
"We've got folks who are homeless," Bigham says. "Folks who are barely getting by, folks living together. Most of them are from the bottom rung of society, but not all of them."
The dinners stand out because church members and community members have dinner together rather than the former serving the latter. At the dinners, Conyers also provides free clothing.
"We're not setting up a food kitchen," says Pastor Kevin Hicks. "We're just inviting them to eat with us, and you can't always tell who's who."
Hicks says the diners refer to him as their pastor, even if they don't show up for Sunday service. But a handful has made Conyers their church home.
Bigham says the event is a great way to reach the community.
"You can't lead anyone to the Lord if he's on an empty stomach," he says.
Find more ways to serve your community »
CONYERS PRESBYTERIAN CHURCH
Conyers, Georgia
ConyersPresbyterianChurch.AtlPCUSA.org