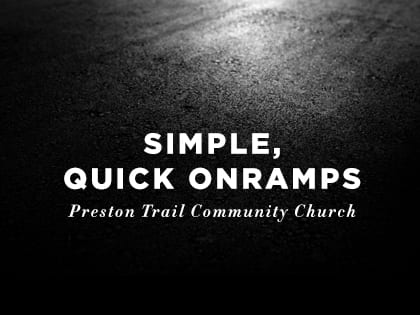 Serve and Engage Pastor Brandon Boyd is ready on the spot when people want to join Preston Trail's family.
Tell us about connecting at Preston Trail.
We have an adoption plan. If you want to be a part of our family, it's that simple—you're part of our family. But we have some family expectations. Just like if you're going to someone's house for Christmas lunch—that first year you go you probably wouldn't be required to do the dishes or bring a dessert. If you come back a second year, you might be expected to bring a dish or do the dishes. That's kind of the same expectations that we have of our family members. If you're a part of our family, then you need to be all in. So we would expect you to be involved in our strategy, to give generously with the resources God's blessed you with so that we can continue to help others find and follow Jesus Christ.
What are some challenges for you with this adoption plan?
Because of the busyness of north Texas and people's lives, they're only going to give us a limited amount of time, and if we don't catch them during that time, then we're off their radar. So we've tried to make sure our onramps are around one of our services—not in the afternoon at 4 p.m. on a Sunday when the Cowboys are on because people are not coming back!
We're always trying to improve on getting people in that moment when they're ready and willing, when they say, "Yeah, I'm good. Here's my information, I want to get signed up." We're always trying to simplify our processes, and we try to use technology.
What are some ways you do that?
We do something called a Serve Tour, which basically just takes you on a walking tour—a behind-the-scenes look at our church—from tech to guest services to kids and student ministries. We show every opportunity we can that has a serving role in it. We remind people of our mission, values and strategy, and what we think about serving. After the tour, they come back to a room where we have iPads set up, and we can immediately plug someone into a serving team role. They can sign up on the spot. So maybe they're interested in Trail Kids, our kids ministry. They'd get an email saying, "Hey, we've got you scheduled for Trail Kids in two weeks at the 9:15 a.m. service. Meet us at the Trail Kids check-in desk."
You're primarily made up of young families and people new to church. Many are also new to serving and missions. How are you engaging them?
We're trying to develop things that make it easy for them to jump on board. This fall we did a message series called Neighbor Love. We talked about what it would look like if we really took Jesus at his word—to love someone else as ourselves. So we created the Neighbor Love Challenge. Throughout the fall, they'd sign up via text message. About 4,500 people would get a text every week starting in August through Thanksgiving. They'd get a weekly challenge about engaging their neighbors. The first one was to bake them a cookie, walk it across the street and just try to have a conversation. People did block parties. We encouraged everybody to have Halloween in the front yard instead of the porch, to have people over for dinner. We had lots of people taking cookies to firemen, to local businesses, everywhere—just doing acts of kindness to really show what followers of Jesus are supposed to be like. Because people are new to their faith, they want to stick their toe in the water first. Then take another step and another step. We need onramps that people can easily jump into before they do something that might seem a little bit crazy. Eventually, they're on the other side of the world serving in Uganda thinking, "How did I end up here?!"
PRESTON TRAIL COMMUNITY CHURCH
Frisco, Texas
Website: PrestonTrail.org
Launched: 2002
A 2016 OUTREACH 100 CHURCH
Attendance: 3,292
Growth in 2015: +438 (15%)
Fastest-Growing: 83