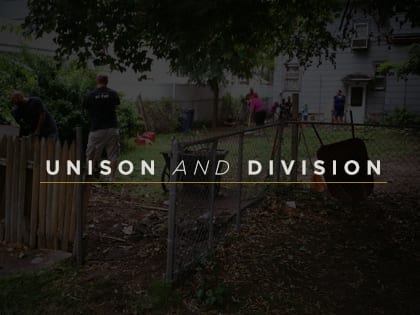 Unison Christian Church in Grand Rapids seeks to bring a divided community together and turn a neighborhood around.
The Church: Unison Christian Church in Grand Rapids, Michigan
The Challenge: Bring a divided community together and turn a neighborhood around.
One Big Idea: Create a church that "speaks their language."
It couldn't be more fitting: Unison Christian Church is restoring a building to be its permanent home at the intersection of Burton Street … and Division Avenue.
The Grand Rapids, Michigan, church is young (founded in 2015) and has fewer than 200 members (with an average attendance of about 95), but it has cast a bold vision for itself: to show the love of Jesus to the entire 49507 ZIP code and to reflect the diversity of its community.
The abandoned, historic theater building is perfect for Unison's mission. It's right where the area's white, Hispanic and African-American communities converge. But the intersection is also home to gang activity, drug deals and prostitution, so the theater building presents a unique opportunity to restore a culture of performing arts in the middle of darkness.
"I believe the 49507 community has the potential for such strength, but sometimes all we see is the negative," says Rev. Chase Stancle, lead pastor of Unison. "I want us to join together to display all of what is good that already exists here and build upon that. We get to be the hope of Christ on display."
For a long time, the community's performing-arts scene has existed in pockets, without a proper place to rehearse or perform. Stancle says Unison's new home will be just as much a home for these artists.
"Our hope is to centralize that type of creative activity right in the middle of all the negativity and allow the people to see both sides on display at the same time," Stancle says. "We want to give them the opportunity to choose."
The church also wants to reflect its neighbors in its own congregants. Most nearby churches have historically been segregated, Stancle says, and while that may have worked in the past, many people in the area are now unchurched. Stancle thinks a multiethnic congregation could be the key to introducing new generations to Christ. So that's what Unison has done. When it launched with 64 people, it matched the demographic ratios almost perfectly.
"That was the result of some intentional conversations," Stancle says. "We were up front with people. We told them, 'We want you to be a part of this because you love Jesus and you've got gifts to give, but also because you're Hispanic, or black, or white. God cares about that and can use it to reach others.'"
The church's name—Unison—points to that idea.
"What does it look like for us as a church to call these cultures to the space where it all starts to shift and blend?" Stancle asks. "Being in unison takes work and intentionality, but there's strength and power when we are all gathered, singing and saying the same thing at the same time."
That's the heart behind Unison: engaging individuals with the hope of Christ.
"We really believe in the power of God to impact a community and transform it radically," Stancle says. "But we also realize we're a young, small church and we're not going to make any big waves. What we can do is create a space where people get to see the beauty of our city—and God's love—displayed."
UNISON CHRISTIAN CHURCH
Grand Rapids, Michigan
UnisonGR.com