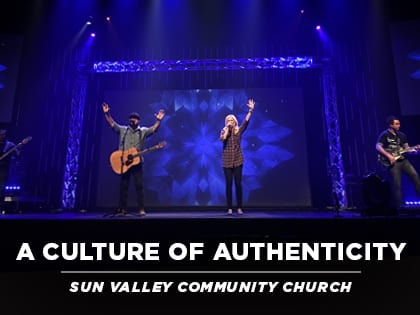 No. 34 Fastest-Growing: People Are Invited to be Real at Sun Valley Community Church in Arizona
When Holly Fleming walked into Sun Valley Community Church in Gilbert, Arizona, for the first time, she didn't identify as a Christian.
"I thought there was some type of god," she says. "But I wasn't sure who that god was."
But she and her husband planned to have children and wanted a church they could attend as a family. So, when they arrived at Sun Valley 11 years ago, Fleming didn't expect to become a believer. The sermons she and her husband heard made an impact, however.
"It just felt like every weekend they were speaking directly to us," Fleming says.
The pastors were authentic, she says, and taught her how the Bible applied to her life on a daily basis. This marked a monumental shift for Fleming, who had never personally felt a connection to Scripture.
Fleming soon joined a small group, although she didn't know exactly what one was. In the group, she met Christians who shared their personal struggles, which surprised her. "In my head, I didn't think Christian people would be normal," Fleming says.
But in 2008, Fleming and her husband both publicly declared their commitment to Christ by getting baptized. Since then, Fleming has served as a volunteer at the church in many different capacities.
Chad Moore, Sun Valley's lead pastor, strives to create an authentic church environment.
"The only way to experience the real love of God is to be courageous enough to be the real you," Moore says. "The only way you can heal is if you're courageous enough to get real."
He says the church's culture of authenticity makes Sun Valley unique. Churchgoers learn that God loves them no matter what they've done or what's been done to them.
Moore says he has seen spouses come clean about infidelity and have their marriages restored, and people get help with addictions. A common refrain at the church is "meet, know and follow Jesus."
While its authenticity has attracted newcomers, Moore says there's also a "culture of invitation." Members learn to regularly invite people to services, and church leaders create opportunities for them to do so by organizing outreach events during certain times of the year, or by designing a sermon series with visitors in mind.
Moore says getting people to understand the true nature of church has played a key role in discipleship at Sun Valley.
"The church is not a building that you come and sit in," Moore says. "It's a movement you choose to be a part of to help people meet, know and follow Jesus. We don't say, 'Thanks for coming to church,' because you can't come to church. The church is you."
Most people who attend Sun Valley are in their 30s, but Moore says his messages are designed so that people of all ages—from 21 to 61—can learn something to apply to their lives.
In addition to small groups, Sun Valley offers groups for married couples, for people with addictions and for those who need to take control of their finances, among others.
Mike Work, an executive pastor at Sun Valley, says the church also makes a point to celebrate people's lives—whether it's people getting to know Jesus or being reintroduced to him. Fleming appreciates such efforts.
"People want real talk," Fleming says, "not somebody up on the stage just preaching to you, 'This is what you need to do. You're bad.' They really talk about how much God loves you. They drive that point home."
Read more Outreach 100 fastest-growing church profiles »
SUN VALLEY COMMUNITY CHURCH
Gilbert, Arizona
Lead Pastor: Chad Moore
Website: SunValleyCC.com
Twitter: @ChadSVCC, @SunValleyCC
Facebook: /SunValleyCC
Founded: 1990
Affiliation: Baptist
Locations: 4
A 2016 OUTREACH 100 CHURCH
Attendance: 6,255
Growth in 2015: +918 (17%)
Fastest-Growing: 34
Largest: 84