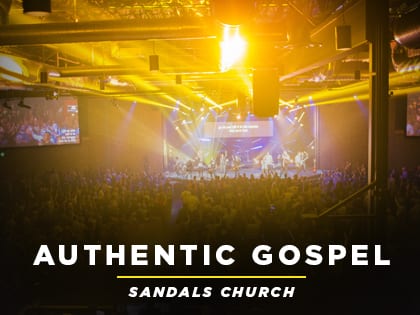 No. 45 Fastest-Growing: The Leaders and Members at Sandals Church in California Share the Gospel With Authenticity
When Matt Brown was growing up, church was the one place where he felt like he couldn't be authentic.
"There was a difference between whom I portrayed in church on Sundays, and who I really was and what was really going on," he says.
Now, as founding and lead pastor of Sandals Church in Riverside, California, Brown has made authenticity a priority. He not only shares his personal shortcomings and triumphs but encourages his congregation to do so, as well.
"They have to be real with themselves and other people," Brown says. "It needs to be a place where they can be who they really are. And that's ultimately what God wants."
Brown says that challenging churchgoers to be authentic has drawn people to Sandals. This includes a couple he befriended whose marriage was falling apart. They were ready to divorce but visited Sandals and became Christians.
"Their whole life is changed," Brown says, "because of this … idea of forgiveness and grace, and they were able to receive that from God and ultimately give it to each other."
The authentic feel of Sandals also appealed to Dan Zimbardi, who began attending the church 12 years ago by pure happenstance. He and his wife were always late to another church service and decided to give Sandals a try because it started later, and they knew they could make it on time. He'd heard "wild people" with tattoos attended the church and didn't know what to expect.
"Within the first few minutes, it felt like I'd found the church for me," Zimbardi says. "I was so drawn in by this vision of authenticity we were really desperate for in our lives and in our marriage."
Zimbardi worked in the corporate world and began routinely volunteering at Sandals. He helped the church set up before services and break down the room afterward. He served as a small-group leader and before long decided to become a licensed pastor. That opened the door for him to become an executive pastor at Sandals, a role he's had for nearly five years. He's overseen small-group leaders and men's leaders alike and calls joining the staff one of his best life decisions.
While most volunteers don't join the pastoral team, Brown says that Sandals invites churchgoers to give their feedback to church staff. "Not just about negative things, but about positive things," Brown says.
Located in Southern California, Sandals also stands out because of its racial diversity. People from a wide range of ethnic groups gather together for worship.
"I might shake someone's hand from Pakistan, somebody's hand from Africa," Brown says. "I'll meet somebody from Mexico or somebody from a South American country, Japan, China, all over the world and back."
The community is also home to several universities, such as the University of California at Riverside, which means there is no shortage of students in the area.
While its location gives Sandals some advantages, Brown says there's also a downside. Riverside is an hour away from the beach, the mountains and the desert. Accordingly, some people would rather be outdoors than in a church building.
Sandals manages to compete with it surroundings because the leaders are not only passionate but also desperate to share the gospel. Brown summed up the three factors driving the church's growth.
"I think the vision, a spirit of desperation and thirdly a willingness to be flexible," he says. "We're willing to try anything that's difficult."
Read more Outreach 100 fastest-growing church profiles »
SANDALS CHURCH
Riverside, California
Founding and Lead Pastor: Matt Brown
Website: SandalsChurch.com
Twitter: @PastorMattBrown, @SandalsChurch
Facebook: /SandalsChurch
Founded: 1997
Affiliation: Southern Baptist
Locations: 3
A 2016 OUTREACH 100 CHURCH
Attendance: 6,333
Growth in 2015: +868 (16%)
Fastest-Growing: 45
Largest: 83