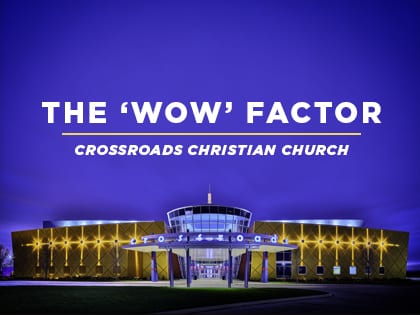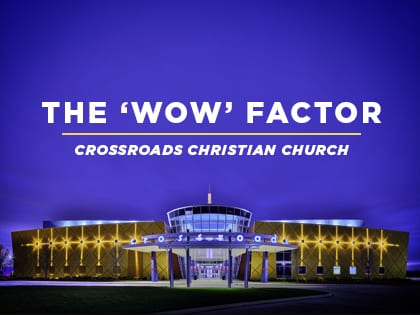 No. 59 Fastest-Growing: Crossroads Christian Church in Texas Serves Community With State-of-the-Art Facilities
"People say 'Wow!' all the time here."
Traci Browder laughs as she tries to describe the children's ministry at Crossroads Christian Church, a nondenominational megachurch in Grand Prairie, Texas, near Fort Worth.
"It's a big, powerful place," said Browder, a church member and volunteer, "but it's all about reaching kids with the gospel."
Big is right. But then, this is Texas.
Crossroads' new 75,000-square-foot, fully paid-for $18 million children's building has a 450-seat theater with stadium seating, a gymnasium, a snack bar, an ice cream shop, gaming stations and an indoor, two-level park-themed play space. To get to all that, the elementary school-aged children and their families pass through a giant lobby that, in the words of Senior Pastor Barry L. Cameron, "looks like something out of Main Street at Disneyland."
"We wanted kids to think this was the happiest place on Earth," says Cameron, who has been senior pastor since 1992. "We have a huge emphasis on children."
The colorful, two-story structure is about half the size of the church's mammoth main worship building. The sparkling facility—situated on Crossroads' 158-acre campus that includes a sports complex with its own gymnasium, concession stand, stage, six soccer fields, three football fields, four U.S. Open-quality tennis courts and four sandpit volleyball courts—serves two purposes: a means of drawing thousands of children with whom the church can share the gospel, and a way to reach out to their diverse families.
The church says the importance of a robust children's ministry is underscored by the fact that nearly half of all Americans who accept Jesus Christ as their Savior do so before reaching the age of 13.
It's not all about children, of course. The multicultural congregation seeks to connect all ages to God and to one another, according to the church's tagline. African-Americans make up half the congregation. A fourth is Hispanic, and the rest is Caucasian, according to Cameron.
The emphasis is on Bible teaching and discipleship. He said the church used to have a major Wednesday evening service. "We discovered we weren't making disciples that way, so we ditched it and started to organize weekly small groups" that study material based on the Sunday sermon, he says.
Still, the church focuses on young people. And soon, that 9-year-old playing a game during Sunday school in the children's building will have a place to continue learning about Jesus when she reaches middle school. Crossroads is currently raising $15 million for another 75,000-square-foot facility—this one a center for teenagers. It will have its own auditorium, gymnasium and coffeehouse, designed with a House of Blues theme, Cameron says.
"Construction will begin as soon as we have reached our [funding] goal," says Cameron, who stresses the importance of being debt-free. "We will pay cash for the entire project."
Browder says the congregation understands the priorities. "People get it that it's truly about making disciples," says Browder, adding that hundreds of volunteers sacrifice time and energy to reach thousands of kids.
"There's so much life, so much heart, so much Christ is poured into the kids," she says.
Read more Outreach 100 fastest-growing church profiles »
CROSSROADS CHRISTIAN CHURCH
Grand Prairie, Texas
Senior Pastor: Barry Cameron
Website: CrossroadsChristian.org
Twitter: @BarryLCameron, @Crossroads_TX
Facebook: /CrossroadsCCTX
Founded: 1970
Affiliation: Independent Christian Churches
Locations: 1
A 2016 OUTREACH 100 CHURCH
Attendance: 6,697
Growth in 2015: +802 (14%)
Fastest-Growing: 59
Largest: 74
Photo Credit: Craig Blackmon