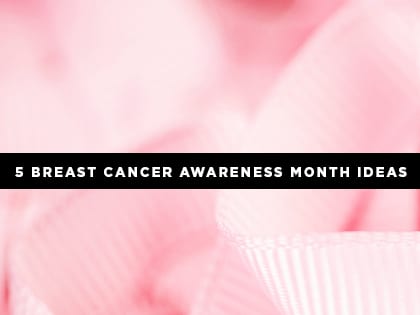 This October, help fight breast cancer and support those in your community who have been affected by it.
October is Breast Cancer Awareness Month. In 2016, it's estimated there will be nearly 250,000 new cases of invasive breast cancer among women in the United States. Help fight breast cancer, support those (and their families) currently battling it and honor those whose lives have already been lost to it by participating in Breast Cancer Awareness Month in a way that fits your community.
1. Pink Ribbon Sunday. The Food and Drug Administration's Office of Women's Health launched the Pink Ribbon Sunday Mammography Awareness Program to educate African-American and Hispanic women about detecting breast cancer early with mammograms. Visit FDA.gov for more ideas and free resources.
2. Guest Speaker. Invite someone who has battled breast cancer to speak. She can share her story and testimony of how God worked through the situation, giving hope to others.
3. Passionately Pink. From silent auctions and bake sales to wine parties and pedicure spa days, your church or ministry can host a Passionately Pink event to raise money for breast cancer research. Visit PassionatelyPink.org for more ideas and free resources.
4. Prayer Event. Invite people to corporately pray together for those who are researching breast cancer, doctors and nurses treating people with breast cancer and families currently battling breast cancer or mourning the loss of someone who had breast cancer.
5. Worship in Pink Sunday. Raise awareness by encouraging everyone to wear pink one Sunday, give away free informational packets, invite women to fill out a pledge card committing to annual mammograms and more. For free resources and a planning kit, visit Komen.org.