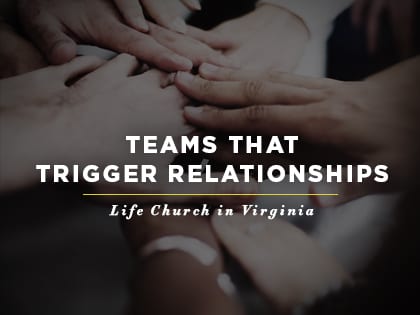 Associate Pastor Josh Baird describes Life Church's new program—Fusion—and why teams are the catalyst for connection.
You just started something new—Fusion—to fuse individuals into the life of the church. What is Fusion?
It's a once-a-month event—people's one-time way to get involved. And it's a combination of Church of the Highlands' GrowthTrack, what Elevation Church does, and our own ideas. If you're a new Christian, or you've been coming for a while and just haven't gotten involved, there's only one thing—it's Fusion. We don't put them in membership class and give them 20 things to do because that tends to paralyze people. They'll choose not to do any of it and just keep coming to worship. So, we say, "Let's get them a bite-sized, manageable thing to do: Fusion." There we ask them to join a team and to help create for somebody else the environment that they experienced. You came in our doors and got saved? Then turn around and help somebody else get saved. Teams are the starting point, which is what Fusion is all about.
Can you describe your teams?
We call them "dream teams," and they're our volunteer teams. We took that from Church of the Highlands, too. So, we have 26 teams with about 600 people that make a weekend happen—everything from counting the offering to security. That's about one-fourth of our weekend attendance. In just three months of Fusion, we've added almost 250 people to teams. We have a goal to add 1,000 "dream teamers" in a year, and at this rate, we'll make it.
So, what happens at Fusion and how does it get people on teams?
It's 2 1/2 hours. We start with hors d'oeurves in the lobby for about 30 minutes, and they spend time meeting people, networking. And we have a concierge team just like the Ritz Carlton—really trying to make it the best experience possible. Then they go into the room for a sit-down meal; it's served, not buffet-style. And there's a video—they learn all about the church, our mission, where we came from, what we do and why. There's a break, and while they're in the lobby for dessert, we're resetting the whole room. We stock their table with dream team-branded gifts—T-shirts, moleskin notebooks, mugs. When they come back, they're totally surprised.
For the second half of the night, we start with personality assessments and then do their passions. We break up and show them our opportunities. We put our teams together in bigger groups. So, we have parking, security, setup and teardown teams all in a group called "special ops." Well, people will pick special ops because they want to do something in that realm; then we'll put them on the security team, which we really need. It's brilliant—they're in a place they're gifted in, we're filling a need.
Once they're on teams, what happens?
From there, they often get into small groups. We have more small groups now than we've ever had, and we're actually pushing them less from stage. They're happening organically as relationships form on teams first. It works so much better that way. We still have a pastor that oversees small groups and the whole structure. But if you go on our website, you're not going to see much about small groups.
We just had a guy, Paul: He started a small group with the parking guys. They're not going to a complete stranger's house because they saw an ad on the screen and then looked on a roster to find an address. They came, visited, got saved, started serving on a team. They built relationships, and now they go to Paul's house.
THE LIFE CHURCH
Manassas, Virginia
Senior Pastor: David Baird
Twitter: @PS_DavidBaird
Website: WeLoveChurch.com
Launched: 1999
Affiliation: Nondenominational
A 2015 OUTREACH 100 CHURCH
Weekend Attendance: 2,205
Fastest-Growing: 39