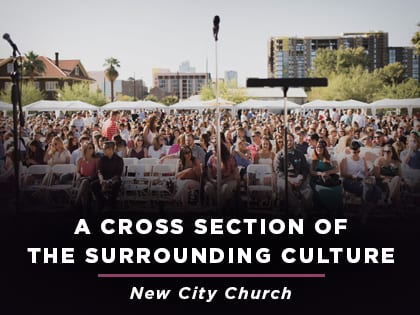 "The church is growing and thriving because people are committed to Jesus and enjoy serving one another."
For our From the Front Lines series, we asked several pastors to share the stories of their church plants. But this is just the beginning of their stories. These pastors will be checking in online with regular updates on their churches and experiences, allowing readers a front-row seat to the ins and outs of church planting. Read more from Brian Kruckenberg and New City Church »
The idea for New City Church was kindling for a few years during my doctorate of ministry cohort at Bethel Seminary. But it truly began to take shape in 2009, while I was serving as a campus pastor at LifeChurch.tv (now Life.Church) in a suburb of Phoenix. In late spring of 2009, I was meeting with another local pastor about something entirely unrelated to church planting. But in our conversation he told me of his involvement in planting efforts around the city, and it struck a cord with me. So, I asked for a follow-up meeting and we spent several hours together as I shared with him the vision I had to plant a church in an urban environment.
I had always had a love for diversity and urban density (even though I grew up in small towns in Kansas), and I saw a need in Phoenix, Arizona. There were churches starting everywhere in the Phoenix suburbs, but few, if any, in the city's center. After much prayer and consulting with trusted friends and family, I called my pastor and told him I was resigning and was going to start a church. As I look back on it, I didn't really know much of what we were going to do, but we felt called, had the calling confirmed by others and were ready to see what God would do.
In January 2010, my wife and our three children (8, 6 and 3 years old at the time) rented a house in a historic district on the northern edge of downtown Phoenix. A couple of families from our old church were crazy enough to join us. Because I had been in the region for a few years, I had some good relationships with other pastors. Through those relationships and some undeniable divine appointments, we connected with Orchard Group, a church-planting organization based in Manhattan, New York, which specializes in planting churches in urban and underreached communities.
During the next several months, we began sharing the vision with others and a few people began to join our weekly small-group meetings in our living room. Unbeknownst to me, God would use my background as an attorney to allow us to connect with many of the urban professionals in the area. With the help of Orchard Group and others, we built an oversight team of local pastors who invested leadership and financial capital into New City Church. To have financial support and the wisdom of seasoned leaders was invaluable. This allowed me to focus more on ministry, relationships and building teams, while worrying less about church finances and operations. That doesn't mean resources weren't tight at times, but New City would not have gotten the start it did without that support.
Not long after moving downtown, I was riding my bike by an old, historic home that was up for auction in the arts district. I thought it would be a great place to meet as a church and also engage the city's burgeoning arts culture. As God would direct it, I ended up meeting the real estate broker for the company that was buying the property, and before it even went on the rental market, we signed a contract to lease it.
In October 2010 we began having our Sunday night meetings with about 30 to 35 people (including kids) at this remodeled, two-story 1908 home. In November, we held what you might call our first "outreach" event in connection with a monthly art walk in Phoenix known as "First Friday." Some of our earliest members of New City were photographers, so they framed up some of their best work and we invited some of their friends who didn't go to the church to do the same.
I knew we had stumbled upon something special when we had hundreds of people in our "art gallery" during one of our first shows. Many of them were Christians, but most weren't. At first, few of them had any idea we were a church and were pretty surprised when they later learned that people who love Jesus could love the arts, too.
As we met more people we steadily grew, and God gave us another gift late in 2010. A local church that had started in 2005 had recently lost its pastor. They had just moved back to central Phoenix and had secured a lease on a small building about a mile from where we were meeting. I met with their two elders, their worship leader and a part-time associate pastor several times, and as we prayed about it we felt God calling us to "merge" into what would be a new church. There were multiple challenges in merging an established culture with a young, developing one, but we felt was worth the risk. It turned out to be.
Now that we had a place to meet and suddenly had a "critical mass," we launched as New City Church in February of 2011 and had 145 people show up the first Sunday. People were excited and invited their friends, and we grew to more than 250 people in that first year. By the end of 2012, we had 450 people attending every Sunday.
Our biggest challenge was figuring out what to do with all these people on a small budget, small staff and a less than desirable building. The nursery door entered directly into the "auditorium," which you could cram 175 people into if some were willing to stand or sit on the floor. But, in early 2013, we raised $100,000 and were able to expand our space so that we could now fit 275 people. In addition, we added a lobby and moved the nursery into a more suitable space. Fast-forward to today, and we now own a building (in addition to the historic home that we purchased at the end of 2013) at one of the city's most strategic intersections. We see upwards of 1,500 people on any given weekend.
What New City has done best in our city is love it well (we actively serve foster and adoptive families), speak its language (we are known for our love for the arts and a willingness to tackle the most controversial topics), and give everyone a mission they can resonate with: New City exists to take the message of Jesus to the places we live, work, study and play. We believe that not only is this a biblical mission, but one that challenges everyone to be "on mission" 24/7.
Lastly, because we are in the urban core of Phoenix, we have hired a staff of diverse people. Two African-Americans, two Indian-Americans, two Caucasian women and two Caucasian men make up the core of our team. Further, worship is lead by a Filipino woman, a Fijian woman and a Puerto Rican man. When people see New City, they see a cross section of the surrounding culture, and this makes everyone feel welcomed and valued.
In the midst of all the excitement, there have been challenges. In the early days of the merger, certain people (on both sides) didn't agree with some of the changes and eventually, some people left. Others wanted to see a different leadership structure and balked at us having "outside" pastors serve as elders in the first three years. Some of them eventually left, too.
I suppose this sheds some light on one of the biggest challenges we've faced at New City: how do we create ministry that serves and disciples our people well and meets tangible needs in the midst of rapid growth? Because we've played catch-up, people at times have felt left behind or ignored. As leaders we've had to acknowledge this and be diligent to do what we can, and at the same time also be faithful the process that God had us in.
As we enter in our fifth year of ministry, I'm most excited about how God has formed a strong core of leaders and volunteers who own the ministry. New City now goes far beyond me and the rest of our staff. The church is growing and thriving because people are committed to Jesus and enjoy serving him together. As our resources and influence has grown, so has our responsibility, so we are currently looking at some unique opportunities to invest significantly in poorer and underserved areas of our city. When we started New City, I was hopeful that God would do something remarkable. But I wouldn't have imagined this, which makes me all the more excited about what he might do in the years to come.
Read more from Brian Kruckenberg and New City Church »
Check out more church plant stories From the Front Lines »
NEW CITY CHURCH
Phoenix, Arizona
NewCityPhx.com
Lead Pastor: Brian Kruckenberg
Planted: 2011
Weekend Attendance: 1,500
Affiliation: Nondenominational