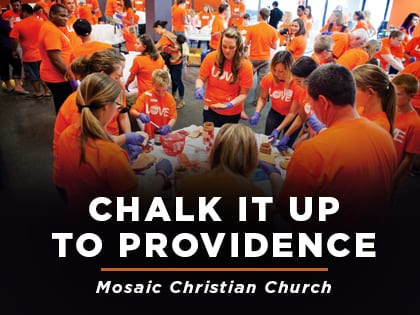 "Sometimes aspiring church planters ask me how to grow a launch team. I tell them, 'God must bless it or it won't work.'"
For our From the Front Lines series, we asked several pastors to share the stories of their church plants. But this is just the beginning of their stories. These pastors will be checking in online with regular updates on their churches and experiences, allowing readers a front-row seat to the ins and outs of church planting. Read more from Carl Kuhl and Mosaic Christian Church »
I had never had a "call" to church planting. The clouds never parted, I never heard God talk to me in a James Earl Jones voice, and I didn't see a burning bush or get warm fuzzies in my heart. I volunteered.
I grew up in a great church where I could bring friends who'd never stepped foot in church and I knew they'd "get" it. They may not fall on their knees to accept Jesus, but they'd be exposed to grace and truth in a way that would make sense. I knew that's what I wanted to be part of the rest of my life.
While reading a book on church planting a few years ago, I learned that in American churches more than 10 years old, there is one convert for every 100 attendees. But in churches under three years old, there are 10 converts for every 100 attendees. I knew that Jesus told us he came to seek and save the lost and that he commanded us to take that message into all the earth, so if church planting is the best way to reach nonbelievers, I thought, sign me up!
After completing a church-planting residency at a Midwestern megachurch, my family moved to Maryland, where we didn't know a single person. We were a parachute plant.
Sometimes aspiring church planters ask me how to grow a launch team. I tell them, "God must bless it or it won't work." They respond, "Yeah, yeah, but give me something practical," to which I reply, "You don't understand. Literally every 'practical' thing we did netted zero results. But we had a launch team of 32 people that came together through completely unexpected circumstances—and that can only be chalked up to providence."
After months of outreach and advertising, we launched Mosaic in 2008 in the country's busiest movie theatre. Afterward our volunteers said, "We had 143 people today … is that good?" I didn't have a good answer. We hadn't known what to expect, so I didn't feel depressed, nor was I on cloud nine. It was more of a realization of, OK, this is the starting point.
And we grew slowly. Contrary to the stories I heard at conferences, we didn't average more than 300 people until we were four years old. That's discouraging if you aren't clear on your vision. But from the beginning we were clear—we wanted to be a church for people who don't go to church.
We named our church Mosaic, and the metaphor is obvious. (Well, except to the woman who called once to ask if that meant we were based on the Mosaic Law of the Old Testament. Umm, no.) A mosaic is broken pieces of glass that appear worthless, until an artist uses them to create something beautiful. We are a church for broken people that the world might consider worthless, but in the hands of our Creator he forms us into something beautiful called the church.
But here's what we learned: When you say you're a church for broken people, guess who shows up? Broken people! More challenging than fundraising or finding a location or determining core values is simply bringing a full measure of both grace and truth to tough conversations.
There was the young guy who said, "I just found out my wife and I are expecting! Can I get together and talk with you about my homosexuality?"
There was the older man who approached me in the lobby after a sermon that I honestly thought was pretty good, and angrily said, "What in that sermon was for me?" And I realized that my sermon had been pretty good—for people who's lives were fine already.
There was the guy who said, "I love that song 'Hosanna.' We're singing to Jesus' mom in that one, right?" Oops. That was a good reminder that if we don't explain everything, we'll only reach Christians.
One couple met with me and said, "We've been married for two years but haven't had sex because she was raped before we met. What should we do?" Or the guy who said, "I love this church. It's changed my life! I want to tell you something really cool. God is blessing my marijuana business because in the bags that I deliver the pot in, I include a Bible verse!"
There was the worship leader from another church who attended Mosaic on Saturdays. He wanted me to know he was gay and asked for help navigating that, because if he told anyone at his church they'd kick him out.
There was the couple who said they hated God because they'd lost twins in a pregnancy gone wrong, then had an adopted son killed by a drunk driver.
We launched a church to reach people far from God, and the challenge was and is to give them both grace and truth.
So, one phrase I've learned to say very well over the last 8 years is, "I don't know."
"I don't know how you recover from that."
"I don't know how I'd have faith in your situation."
"I don't know what to do with your sexual urges."
"I don't know the answer to that question."
The thing I do know, from the first chapter of John, is that Jesus came full of grace and truth. If we neglect either one, we will not help people as God wants us to. But if we hold on to grace and truth, we can enter the messiness of people's lives, and the gospel will give them something to hold on to.
Since we launched eight years ago we've baptized hundreds of people, sent dozens of mission teams overseas, started a "love week" to blitz our community with service, and opened a second location. But the thing I'm most proud of is that God has brought messy people who were far from God, and his grace and truth has set them free.
It's why I love church planting, and why I can't imagine anything better to volunteer for.
Read more from Carl Kuhl and Mosaic Christian Church »
Check out more church plant stories From the Front Lines »
MOSAIC CHRISTIAN CHURCH
Elkridge, Maryland
MosaicChristian.org
Lead Pastor: Carl Kuhl
Planted: 2008
Weekend Attendance: 1,200
Affiliation: Nondenominational