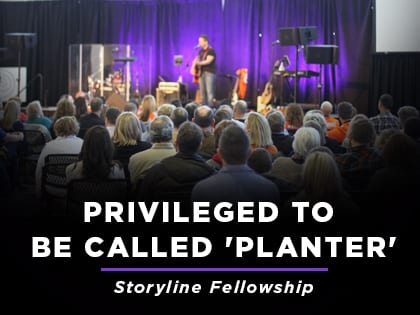 "What has surprised us the most in this church planting adventure? The faithfulness of God to answer prayers of desperation."
For our From the Front Lines series, we asked several pastors to share the stories of their church plants. But this is just the beginning of their stories. These pastors will be checking in online with regular updates on their churches and experiences, allowing readers a front-row seat to the ins and outs of church planting. Read more from Ben Mandrell and Storyline Fellowship »
There's a quote I framed recently, by 20th-century theologian D. Elton Trueblood:
"A man has made at least a start on discovering the meaning of human life when he plants shade trees under which he knows full well he will never sit."
The best church planters I know operate under this mentality. One day, this scrawny sapling will tower and touch the lives of many. I likely won't see the lion's share of those shaded faces, but what a privilege to be called a "planter." It's a badge my wife Lynley and I wear with enormous satisfaction.
I Never Planned to Plant
Through the rearview mirror, I can now see how God hardwired the two of us for church planting, but for 10 years of marriage, we didn't know such a thing existed. At our wedding in 2002, we were unaware that one day, we would move our four children a thousand miles from "home" to start a church from scratch.
In the summer of 2013, a "divine disturbance" took place in our family, as a result of our Awana kids program at church. Each year, the congregation I pastored in west Tennessee chose a Wednesday night to challenge each kid to be outreach-focused. On this night, every boy and girl was dared to bring an unchurched friend to Awana, with one possible loophole. In the event that the child could not find anyone to invite, he or she could instead bring three cans of soup for the food pantry—a kind of consolation prize (or guilt offering).
Two years in a row, I was assigned the sad run to the supermarket in the hours leading up to the event. Once again, the pastor's kids were bringing cans of chicken noodle soup, and we were forced to swallow the jagged pill. Our kids had zero unchurched friends because they were just like us.
Secretly, we started praying for a clean conscience and the courage to make necessary changes. We assumed this would mean a few more cookouts with neighbors, but in the end, it would require something far more.
In November 2013, we resigned from the happiest church we had ever known. We went from a church that was running 2,500 on the weekend, to something completely unknown in Denver, Colorado. It was terrifying. And exciting.
The Power of Partnership
Our church plant is called Storyline Fellowship. We launched in February 2015 and have watched our vision take off like a rocket. People have asked what factors have fueled our strong start and the answers come easy: a) the favor of God and b) the fuel of partners.
From the moment we signed on with the North American Mission Board, our family has been overwhelmed with love, care and support. It's like joining a massive family that lives all over the map. Our president, Kevin Ezell, is accessible, loyal and uplifting, and our sending church, First Baptist Orlando, has gone overboard to provide every ounce of support we've needed. We could not imagine the difficulty of doing this alone, and thank God for the network of churches that chose to come alongside us.
Starting Over
Church planting is often romanticized, and for good reason. Any planters worth their salt want to inspire others to take the plunge, so they'll tell stories of life change and triumph—as they should!—while downplaying those days they wanted to curse and quit.
When we moved to Denver, I became the most caffeinated man in the country. With no office but a coffee shop, I sat for hours each day, praying and hoping to meet people and share the vision of our coming-soon church. We parachuted in and knew no one. Some days, I came home empty-handed and sad. Other days I walked through the door with a bounce in my step because one man said he'd like to hear more.
At the start, we hosted six parties in the park, and sent our little kids door-to-door with flyers. What person with a heart would reject a chocolate-milk-mouthed kid? We were shocked when hundreds of people showed up for our cotton candy and bounce houses. Around the popcorn machine, conversations started and relationships spawned. Within months, we had recruited enough seekers to fill up a rented real estate office on Sunday mornings for Bible study.
"Holy cow!" we thought. "This is working!"
Victory and Defeat
The journey of starting Storyline has produced the highest highs and the lowest lows of our lives. Getting our foot into a school felt comparable to conquering Jericho with a trumpet. In our particular school system, all rental fees are sent directly to the school board, which demotivates principals to open their doors on the weekends. I didn't blame them for saying no, but couldn't avoid depression every time they did. Each time a door shut, it felt like a slam in my face.
My church-planting coaches would accept no self-pity. I noticed how little they rubbed my back and enabled my pouting. Church planting requires grit, and I couldn't take the first no for an answer and decided to play offense at "Donuts for Dad."
Donuts For Dad Desperation
All four of my children attend the same elementary school, which boasts its annual "Donuts for Dad" event. The program is simple: dads walk into a cramped cafeteria, search for a place to sit down with their kids, and survive awkward small talk with other dads, all the while their children consume sugar by the fist. My kids look forward to this day like December 25.
At last year's event, I felt prompted by the Spirit to walk into the front office and see if they would say no a second time, to my face. As politely as I could, I inquired about my recent rejection notice. I was told that the custodial staff refused to work on Sundays, but then asked if I could speak with one of them personally. I was granted permission. After searching the hallways for someone with keys jingling on the hip, I soon found Mary, who called the weekend shots. As soon as Mary heard my desperate plea for help, she confessed that she was a Christian and would be delighted to be the answer to our prayers. A door was opened and the rest is history.
Our church launched in that little elementary school, and when we outgrew that space, God gave us another friend on the high school facilities team. One closed door after another, God has demonstrated that he goes before us, and can push them open.
What has surprised us the most in this church-planting adventure? The faithfulness of God to answer prayers of desperation. I'm not sure why this shocks me, though, because Jesus said, "Ask and it will be given to you; seek and you will find; knock and the door will be opened to you" (Matt. 7:7).
What a privilege it is to be called "planter."
Read more from Ben Mandrell and Storyline Fellowship »
Check out more church plant stories From the Front Lines »
STORYLINE FELLOWSHIP
Arvada, Colorado
StorylineFellowship.com
Lead Pastor: Ben Mandrell
Planted: 2015
Weekend Attendance: 550
Affiliation: Southern Baptist