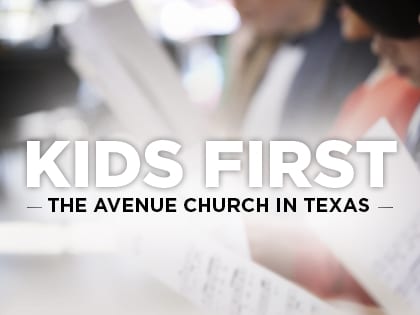 Lead Pastor David Brown shares how The Avenue Church prioritizes their kids ministry—with great results.
What does retention look like at The Avenue?
When I started in 1990, I looked around: "I'm 26 and the person closest to my age is 45!" The average age was 60. So, I had been a youth minister for eight years, and I thought, you know, the kids have a lot more fun at youth camp than they do at church. So why don't we do church more like youth camp? Why isn't it fun and exciting? Slowly we started making changes. We had to fight a lot of battles. And we decided we wanted to be attractive to people who were far from God, who didn't like church or people who typically wouldn't go to church. We wanted to show them love, grace and compassion. That's been the progression. In 2010, we relocated to 77 acres and watched attendance go from 600 to 3,600. Our average age now is 32. We've been exploding, and a lot of it is our campus.
Can you describe your campus?
There are walking trails, there's a lake for fishing, a splash pad, a volleyball court, a coffee shop that's open every day. It's a beautifully landscaped, modern-looking building—doesn't look anything like a church. We've got an indoor playground. When we moved, we spent all our money on the children's ministry building. We made a commitment to them—to raising a generation that wants to go to church. So our children's areas are state-of-the-art. They're secure—we've got cameras rolling in every room, police officers at doors. We've got a security team. Kids are going to have a blast. And when they leave, they want to come back. That's a big thing in getting people to come a second time.
How does your children's ministry work as an invitation to connect at The Avenue?
We don't advertise or do any marketing. We don't have signs on the road. It's all about inviting others to come to our church or community events, like our big fall carnival. We bring in rides from the Texas State Fair. And it's all free. It's easy for parents to say, "Hey, my kids really like this and have a lot of fun. Yours will too. You should come!"
About 50 percent of the people who come to our indoor playground are not members. They're invited first to a birthday party thrown by a church member. The kids love it, and then ask their parents to come back. Then the guest calls us and they want to do their kids' birthday parties here.
Can you share a story about reaching a family through their children?
One family came to our fall carnival a year ago. Their kids kept asking, "Can we ride this? Can we ride that?" And the parents said, "No, we're not going to ride anything." One of our workers saw this and said, "You can let them ride!" They said, "Well, we can't buy any tickets." Our worker said, "No, it's free! It's all free! You don't need tickets! We're just doing the wristbands so that we know you're here—for attendance purposes." They were so overwhelmed by the generosity. They hadn't been to church in like 10 years, but they said they had to come to a church that would be that generous. I baptized both their little girls three weeks ago.
THE AVENUE CHURCH
Waxahachie, Texas
Senior Pastor: David Brown
Twitter: @DavidBrown_Ave
Website: TheAvenueChurch.com
Launched: 1941
Affiliation: Southern Baptist
A 2015 OUTREACH 100 CHURCH
Attendance: 3,090
Fastest-Growing: 43