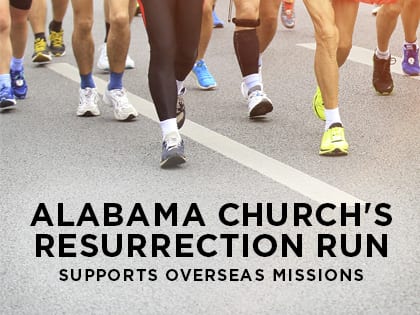 Vaughn Forest Church in Montgomery holds 1K walk/run, 5K run and 10K run to fund international missions organization.
TREC International builds schools and plants churches in the neediest parts of India and Nepal. They even run a leper colony. TREC's mission is to be the hands and feet of Jesus in this hurting world.
Vaughn Forest Church in Montgomery, Alabama is helping to fund TREC's overseas missions through their annual Resurrection Run, held every year on the Saturday before Easter. The run offers a 1K walk/run, a 5K run and a 10K run.
"The Resurrection Run is a philanthropic event, and avid runners from all over Montgomery participate," said Gail Klucking, the director of spiritual formation at Vaughn Forest Church. "Last year, we had 175 runners, and we are hoping for even more this year."
The 1,000-member congregation is also hosting a brand-new event this year. Following the Resurrection Run will be a carnival-type event called Spring in the Forest. The event will feature an Easter egg hunt, food and inflatable bounce houses. Volunteers will man stations where the children can play games, make crafts, get their faces painted and hear the Easter story.
"We want to use these community events as an opportunity to invite people to our church and especially to our Easter Sunday services," Klucking said. "We want to welcome people to celebrate the resurrection of Jesus with us."
Vaughn Forest Church hopes that the Resurrection Run and Spring in the Forest events will minister to their community and that some may even find a church home that day.
"We just want to love on our community," Klucking said.
Find more ways to serve your community »
Find more Easter outreach ideas »