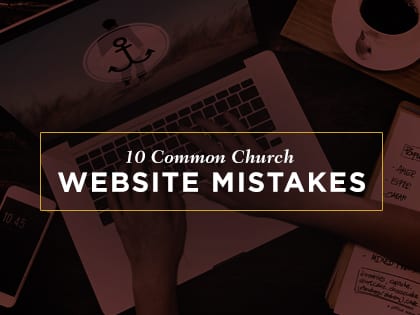 "Your ministries exist to serve the people already attending your church. Your website exists to attract people to your church."
Last year I attended the That Church Conference to learn more about how churches can better leverage social media to impact our world for Christ. One of the individuals I connected with was Jonathan Carone. Jonathan had recently released The Church Template, a low cost website template designed specifically to help churches reach their community. I highly recommend you check it out.
He was also kind enough to share with me some common mistakes he sees on church websites. I wanted to pass along his thoughts to you.
The following are 10 Common Mistakes Found On Church Websites from Jonathan Carone of The Church Template:
1. Not Mobile Friendly
This is likely the hardest mistake to correct on this list but it's by far the most important. Research is coming out saying that 60 percent of the Internet is viewed on a mobile device. Other reports tell us that 80 percent of Internet users own a smart phone. To reach people in 2016, your website needs to be optimized for mobile viewing.
2. Focused On Your Current Attenders
Does your website focus on what your ministries are doing next week? Or does it focus on what a potential guest will experience during a weekend service? Your ministries exist to serve the people already attending your church. Your website exists to attract people to your church. This year 17 million people who aren't regular church attenders will visit church websites. Having information about your ministries on your website is important, but it shouldn't be the focus. Your focus should be on what the potential guest will experience when they visit your church. This leads to the next mistake:
3. Service Times and Location Aren't Prominently Displayed
I once did an audit of a church website to see which pages were getting views and which ones weren't. The leadership of the church was surprised to see that over half of the traffic went to their times and location page. When potential guests visit your site, they want to know when and where you meet. This should be displayed up front so guests don't have to go searching for the information.
4. Inaccurate Pictures
Churches do this in a few different ways. The most common is showing something that, while true, isn't representative of your community. A great example of this is in your staff pictures. If your kid's ministry staff wears jeans and a ministry t-shirt for the weekend service, their staff picture should be in jeans and a ministry t-shirt. It shouldn't be in more formal clothing. If you preach in jeans and a button up shirt, your staff picture shouldn't be of you wearing a jacket and tie. The pictures on your website should represent the exact thing guests will see when they visit your church on the weekend.
5. No Staff Information
Guests want to know who will be leading them before they decide to follow. It's sometimes hard to keep up-to-date with part-time employees, but your pastoral staff is likely there for the long haul. They should be displayed somewhere on your website.