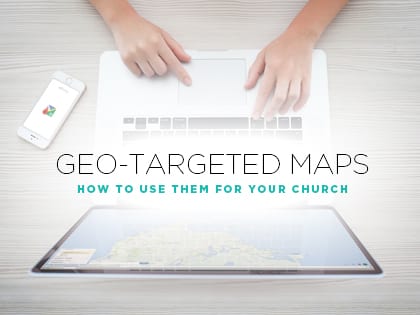 Six ways you can leverage Google Maps' handy visual mapping tool to serve your congregation and your community.
Google Maps has a handy (and free!) tool that imports a spreadsheet of addresses onto a map for use at your church. Visualizations of data like this can be a powerful tool for decision making. Your church could use it in a number of different ways:
Multisite: Look at the shift patterns of where attendees and guests are coming from to know where to put your next campus.
Student Ministry: Drop the addresses of all your students on a map to help your leaders see which students are closest to them.
Mission Trips: Get the addresses of various locations that you are visiting and share them with your potential participants. Because these maps are integrated with Google Street View, you can literally see exactly where you are going.
Facility Search: Maybe you are looking at new locations for campuses or your church plant. Drop all the potential new locations onto a map for people to explore.
Here's how:
1. Create a spreadsheet.
Using your favorite spreadsheet program, make a sheet with all the information that you'll need. Label the various columns whatever you'd like, but make sure everything is clear to you. In Step 6, you will pick a column to be the label for the "pins" that will be dropped on the map. Ensure that data is in one column now. Note: My Maps limits the number of rows of data that you can import to 2,000.
2. Log in to My Maps.
You'll need a Google account for using My Maps. If you use Gmail, you already have an account that you can use. You'll be presented with two options when you log in: "Create a New Map" (this gives you the ability to create a new map from a spreadsheet) or "Open a Map" (this is where you can access maps that you have already created). Click on "Create a New Map."
3. Name the map.
On the top left-hand corner of the map, there will be a dialogue box that reads "Untitled map." Click on that to rename it something that will be easily understood by all users.
4. Import the data.
In the same dialogue box, you'll see a blue highlighted "Import" link. Click on that to upload your spreadsheet. You can import CSV, TSV, KML, KMZ or XLSX files, as well as spreadsheets from Google Drive.
5. Select the location data to add to the map.
The next window will show the top row from your spreadsheet as titles of the columns that you will use to place the data. For example, you could select multiple columns (Address, City, State, ZIP Code) because Google My Maps will use that data and combine them together to place the data on the map. The more information you provide, the more accurate the map will be. If you just give it city names, it will place all the pins with that city name in the center of town.
6. Title your markers.
The last step is to pick a name for each of the pins. You will pick one column that will serve as the title for each of the corresponding rows. You can only pick one, so when you're making your spreadsheet, ensure that you have a column that would work well for what you're trying to show.
Other Features
Sharing. By clicking the "Share" button in the dialogue box, you can email the map to other people or generate a link for use on social media.
Change Pins. Scroll over the "All items" label and you'll see a little paint bucket. Click on that bucket to change the pins' color or logo.
Multiple Layers. Import more than one spreadsheet and you can compare various sets of data.
Measure Distance. At the top of the map there is a ruler icon. Use this tool to measure the distance between two points on the map. Handy for doing quick approximations of drive times!