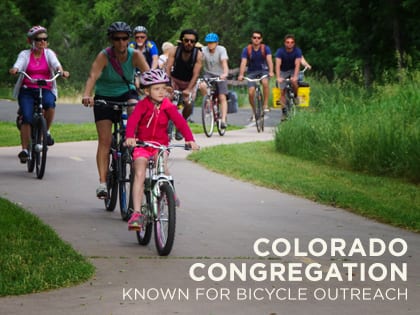 Bike to Church: Trinity Lutheran Church in Fort Collins, Colorado
Trinity Lutheran Church has distinguished itself in Fort Collins, Colorado, by embracing the city's famed bicycle culture. Located near a popular bike trail, the church not only launched a bicycle ministry that encourages worshipers to bike to events but also supports the city's twice yearly Bike to Work Day by offering massages and breakfast to cyclists.
Its bike friendly reputation traveled beyond Colorado when Trinity became only the second church to be honored by the League of American Bicyclists. The church's dedication to bike culture, including the custom-made racks on its grounds, sends a message to the public, says Jeff Nosal, head of the bike ministry.
"It does make it easier for people to connect," says Nosal. "It definitely created an outreach in the community."
Meghan Aelabouni, who pastors Trinity with her husband, Gabi, says that the church's bicycle outreach stands out in a community where many residents lack any religious affiliation.
"We're taking seriously the context in which we exist because Fort Collins is a bicycle-focused town," she says. "It's not that we're handing out tracts at our bicycle events. It's a way to connect with people around something that matters to them."
Nosal says speaking with community members and urging them to embrace healthy lifestyles makes a difference, even if the church, with a weekend attendance of 240, can't quantify how many newcomers attend Trinity because it is bike friendly. The bike ministry shows largely progressive Fort Collins that Christians care about the planet.
"In Genesis, God calls for human beings to be caretakers of the earth," Aelabouni says. "It's a responsibility we take seriously. It's an avocation. We have a role as stewards—not only a role in securing our own salvation but to serve our neighbors and to care for God's creation."