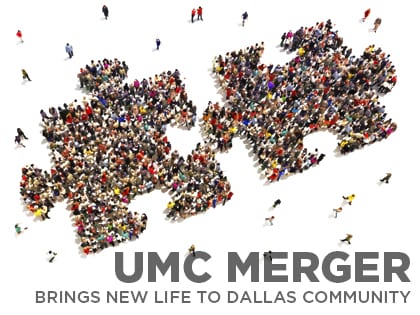 Oak Cliff UMC dissolves, becomes incorporated into Tyler Street UMC.
In October 2014, Rev. Edgar Bazan sat down with his friend Ed Lantz. Both men senior pastors of United Methodist Churches in Dallas' Oak Cliff community, Bazan was looking for wisdom in dealing with an overwhelming problem.
The church he led, Oak Cliff UMC, was struggling do ministry while maintaining its 128-year-old building. The dark red brick sanctuary, a designated Dallas and Texas landmark, had required an estimated $3 million in repairs that the congregation's 80-plus members simply couldn't afford.
"The building wasn't sustainable, and what had been an enabling tool became a financial burden," says Bazan. "It was actually keeping us from doing ministry, as most of our finances were going into repairing."
As the pastors brainstormed, they came up with a creative solution: their two churches could become one. Oak Cliff would sell its building and dissolve, and its members, ministries and staff would transfer to Tyler Street UMC, where Lantz and Bazan would pastor side-by-side.
During the next several months, the pastors met with key congregants and leaders to talk through the possibility of such a transition. They were receptive. Oak Cliff UMC closed its doors in June, and on Sept. 13, 2015, it was officially incorporated into Tyler Street UMC.
"Long story short, it just kind of happened organically," says Lantz. "We began, you might say a courtship, between our two congregations, putting them together, seeing how they ministered."
To make the transition easier, the churches took the three or so months between Oak Cliff closing and the merger to give Oak Cliff members the chance to become familiar with Tyler Street and decide whether they wanted to transfer their membership. This also gave Bazan and his team ample time to close their accounts and move their money and assets to Tyler Street.
"By the time we joined together, people were already beginning to feel part of the church," says Bazan.
When two churches become one, both must be willing to let go of part of their identity so that a new one can form, Bazan says. The former Oak Cliff, which had a predominantly Spanish-speaking congregation, would need to find ways to integrate into the majority English-speaking Tyler Street congregation. But Bazan affirms that Tyler Street was more than accommodating.
"Sometimes mergers don't work because one church is unwilling to let go of their own identity. They are both fighting to keep something of themselves," says Bazan. "But there needs to be a compromise. In this case, I can speak to the grace … Tyler Street had in saying, 'We don't want you to let go of who you are.' They were very gracious through this transition."
Lantz says Tyler Street now has about 380 people in attendance each weekend, around 80 of which were members of the former Oak Cliff. To keep the new members from disappearing into the fabric of the congregation, one-third of the church's paid and volunteer leadership team will be comprised of former Oak Cliff members for 24 months, after which there will no longer be a distinction between the two churches.
The congregants from Oak Cliff have benefitted from the new surroundings. In November, Tyler Street opened a newly-renovated, contemporary worship facility, where Bazan leads a Spanish-speaking service on Sunday mornings. Compared to the old building at the former Oak Cliff campus, this new facility is much more conducive for ministry and outreach.
"Coming here brought on new life," Bazan says. "This new worship space is life-giving to the church. People are very happy, and there is a lot of positive thinking happening."
Tyler Street has benefitted from the new arrangement, as well. Before the merger, Tyler Street's Spanish-speaking ministry consisted of only "a small number of Spanish speakers," says Lantz. Now, those members have joined in with Oak Cliff's 80 Spanish speakers for a larger, more vibrant service. Moreover, the merger has made the church body more representative of the Oak Cliff community, which is majority Hispanic but also has large white and African-American populations.
"It's a very diverse community," says Lantz. "Our church is literally at the crossroads of different cultures and ethnicities."
Lantz and Bazan both stress the importance of breaking down racial and ethnic barriers in the body of Christ.
"Doing worship in Spanish doesn't mean it's a Hispanic ministry. It's not labeled that way. Anyone can come to it," says Bazan. "We are not denying the label of being Hispanic. I'm Hispanic. I'm Mexican. But when it comes to worship, we don't promote it as such."
The pastors are excited about the new partnership and have high hopes for the future. More and more, they see opportunities opening up that wouldn't be possible if the churches were still two separate entities.
"The merger just feels right," says Lantz. "We've worked hard to make it go, but honestly, God has put people in the right places, and it's been great."
"Right now, grace abounds in our midst," says Bazan. "And I honestly believe that whatever we do, God is going to prosper it … We are going in the right path, in the right direction."