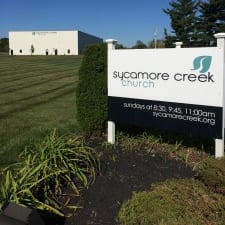 Sycamore Creek Church in Pickerington, Ohio, ends up in the national spotlight after surprising pizza delivery driver with $1,046 tip.
It's rare that a local church makes national headlines, and even rarer that a local church garners national attention for all the right reasons. Even so, when Lead Pastor Steve Markle and the staff at Sycamore Creek Church in Pickerington, Ohio, put their idea into motion—taking a special offering and surprising an unsuspecting pizza delivery driver with a $1,046 tip—they had no idea it would catch the eye of major news outlets like The Washington Post and nationally-broadcast morning talk show Fox & Friends.
"That wasn't our intent at all," Markle says. Video of the event, which Sycamore Creek's media team uploaded to YouTube on Oct. 4, has amassed close to 300,000 views. "It was one of those things that we thought would be good for our congregation to see, and that maybe one of them would show their friends. Little did I know that I'd be getting emails from people all over the world, telling me how this affected them, and how they were brought to tears."
The video depicts Domino's Pizza employee Natasha Boyer, 21, carrying a pizza onstage in front of a large crowd in Sycamore Creek's auditorium, followed by Markle explaining to her that at all three services that Sunday, the congregation had given to a special offering. The result of that offering—$1,046 in total collected money—was hers to keep as a gift. What follows is a moving display, as Boyer breaks down in tears, embraces Markle and repeats, "Thank you. Thank you so much."
According to The Washington Post, that same morning Boyer had received an eviction notice taped to her door. A single mother, Boyer had missed a week of work due to being hospitalized for pneumonia and was uncertain of her capacity to provide for herself and her three-year-old son. As it turned out, this act of generosity by Sycamore Creek's congregation was exactly what she needed.
"I was trying to come up with a way to get almost $1,000 to try and figure out how to keep my home so I didn't lose my job," Boyer told The Washington Post. "My prayers were literally answered in a matter of hours."
Markle says this event served as the culminating illustration of a four-week series on generosity. Even more than that, it was a real-life expression of Sycamore Creek's mission statement: "changing the world by changing lives."
The nondenominational church, which has an average weekly attendance of 600 and has seen steady growth in the last several years, offers congregants all kinds of opportunities for outreach by partnering with organizations like the Salvation Army, Kairos Prison Ministry and Better Way, a ministry that tends to the needs of the poor and homeless in downtown Columbus, Ohio.
Annie Collins, whose family has attended Sycamore Creek since they moved to Pickerington two years ago, said the church drew her family in with its inviting, warm environment and emphasis on influencing the community in positive, Christ-centered ways.
"The outreach was huge for us," Collins says. "We had never really been into a place that offered so much outreach, and not just for myself and for my husband, but for my kids, as well."
The offering for Boyer on Oct. 4 was a special moment for Collins and her family. While the offering was being taken, Collins' 12-year-old son Joshua turned to his mother.
"He said, 'Mom, you have to give our lunch money,'" Collins recounts. "I said, 'That's our lunch money.' And he said, 'Mom, you have to give the lunch money. Give me the lunch money. I'm going to put it in the offering.'"
That money, which the Collins family had received as a gift the day before, was going to be used to treat the boys to lunch after church, a rare luxury for the sons because of tight finances. Instead, Joshua and 15-year-old son Seth decided to give that money away.
"They did that knowing we were going go home and eat peanut butter and jelly sandwiches instead," Collins says. "Nobody complained about what we ate all day because we were on such a high from seeing how thankful [Boyer] was."
Witnessing Boyer receive the offering was something Collins says she and her family will never forget.
"To see her reaction was the best thing of all," Collins says. "Some people would get up [on stage] and not react the way she did. She reacted so warmly. She was so grateful … She just sort of melted into Steve and didn't want to let go."