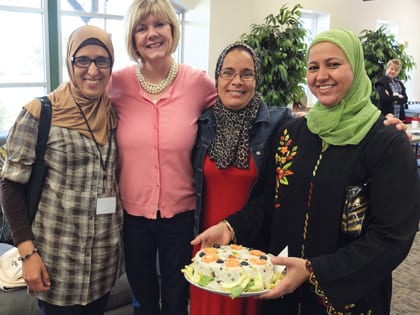 Five Baptist Oklahoma Churches Help Women From 36 Nations Form Friendships
Puerto Rico native Lucy Torres says that after her husband's company transferred him to Edmond, Okla., in 1989, a friend invited her to a local Christian ministry aiming to bring international women together for weekly devotions and fellowship.
"It was amazing to see ladies from around the world," she says. "Getting to know them and learning about their culture and beliefs fascinated me."
A group of women from five Baptist churches in Oklahoma started Edmond Friendship International in 1977. According to the ministry's director Amanda Stulce, they wanted to assist women from other countries whose husbands attended Central State University, now the University of Central Oklahoma.
"The wives were basically in their apartments with their children, and didn't speak English and didn't know anyone," Stulce says.
Every Thursday morning during the school year, Friendship International holds meetings at Henderson Hills Baptist Church, which has a weekend attendance of 2,700. Ministry volunteers teach Bible, English language and American citizenship classes, as well as crafting and cooking classes.
Torres, now in her 70s, says she learned knitting through the ministry and helped the Spanish-speakers translate documents.
More than 118 women from 36 nations—including China, Hungary, Poland, Uganda, Zambia, Mexico and Peru—are participating this year.
And although the women include Muslims, Hindus, Buddhists and even nonreligious, she says, the volunteers willingly share their faith and answer participants' questions about Christianity.
"The goal is to lead them to Christ," Stulce says, "and we've seen ladies come to Christ, which is always exciting."