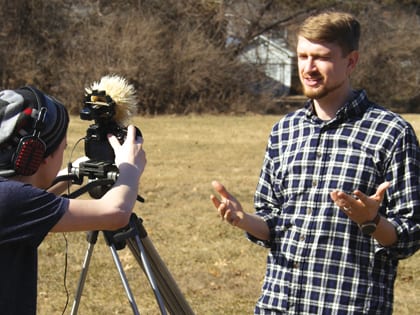 Peoples Church in Pinckney, Mich., Reaches Students Through YouTube Channel
A routine family vacation transformed Garrett Gerhart's approach to student ministry. Director of student ministries at Peoples Church in Pinckney, Mich., Gerhart wondered during his trip last year, "How can I connect with students when I can't see them all the time?"
Then he observed how YouTube videos captivated his sister-in-law, a middle school student—the tween subscribes to 25 YouTube channels. So when Gerhart returned to Pinckney, he explored YouTube to see if he could find videos that offered meaningful advice to students.
Not finding such videos led Gerhart to produce his own on topics such as leadership, conformity, first impressions and mission trips. Gerhart's YouTube channel, Transformational Student Life, launched in August 2014. By the following spring, Gerhart had created 15 videos for the youth of Peoples Church, a community of roughly 400. The channel nets 175 views per video, released biweekly.
Adults at the church share the videos with kids they know. Youth at the church, such as high school junior Jeremiah Duke, are invested in the YouTube channel. The 17-year-old helps Gerhart edit and direct the videos.
"Nowadays students are less attentive and are impatient," says Jeremiah. "So with this channel, students can have a constant and weekly lesson about God and life in general."
Gerhart hopes that other youth ministry leaders find ways to use media to relate to youth. YouTube isn't just a place where youth go to be entertained, he points out.
"We can also share God's light there," he says.