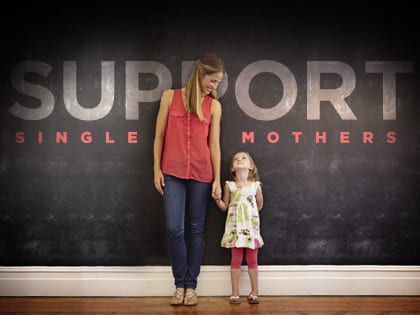 Bible study offers encouragement and support for single moms in the McCook, Nebraska, community.
Trista Hansen says that when she came to the Single Mom's Ministry Bible study for the first time, she found understanding and support.
"It was great to hear about what the other moms were going through, how they coped and how it related back to God," says Hansen, who is raising a 3-year-old daughter.
The Single Moms Ministry Bible study is a program at McCook Christian Church, a congregation in McCook, Nebraska, that averages about 425 attendees each Sunday. Church member Kim Tietz says her work as a daycare owner served as inspiration for the ministry.
After receiving approval for the Bible study from the church board, Tietz and fellow congregants Sarah Hoyt and Sherry Henning handed out flyers at places like daycare centers and women's shelters.
"We wanted to reach the ladies who we could really minister to," she says.
Since its debut in September 2014, eight single mothers have joined the Bible study. The group meets at the church on Wednesday nights so the mothers can bring their youngsters to the children's ministry or nursery.
The ministry's Bible-based curriculum focuses on topics such as child rearing. One lesson titled "A New Start for Single Moms" encourages women to look to God and not man as their source, says Tietz.
She and her team also help the mothers deal with practical problems, like the time they assisted a woman who needed help moving, Hansen recalls.
"I know that if I ever need anything," she says, "they'll help."
In addition, the mothers pray for each other.
"I think that praying for each other has done a lot for them," Tietz says, "and has shown them God's hand in things."