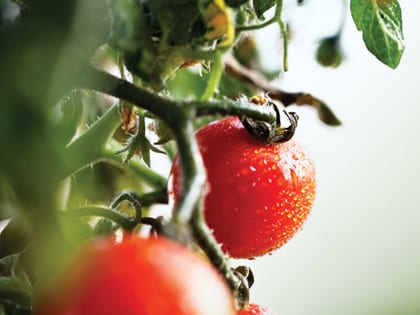 First Baptist Church in Stilwell, Kansas, Remakes Its Reputation With Produce
In Stilwell, Kan., a woman in her 40s had suffered from Lyme disease followed by a bout with cancer. Her health was so depleted that she developed severe food allergies and could eat nothing but avocados, yams, cabbage and greens. Because of her illness she lost her job and couldn't afford food, but the closest pantries provided only bread and canned foods that landed her back in the hospital.
In desperation, she reached out to First Baptist Church and their community garden. For several months they allowed her to harvest all she needed—today her health is restored and she has returned to work.
The garden began in 2010 when a high school student approached the pastor, Dave Richardson, about doing her senior project on the church's land. Her plan was to create a garden that would supplement the church's food pantry. Her school rejected the idea under church and state concerns, but Richardson liked it so much he moved forward anyway.
"It fit hand in glove with what we were doing and gave us a great opportunity to involve our community groups," Richardson says.
They soon plowed 12,000 square feet of prime land at the front of the church near their busiest roadway. Volunteers donated tomato plants and an offering raised $300 for the first crop of peppers, corn, green beans and squash.
That same year Richardson, a graduate of Palmer Theological Seminary, applied for a Palmer Foundation grant. With the help of a "master gardener" from the church, Richardson and a professor in the congregation wrote a proposal for expanding the garden to include 16,000 square feet of fenced in space with all necessary equipment. A check for $11,200 soon arrived.
In the last three seasons the church, which averages 107 in attendance, has partnered with other churches, civic organizations and scout troops to grow and give away more than 8,000 pounds of fresh produce. Director of Caring Ministries, Donna Rains, says giving fresh, nutritious food goes beyond meeting a physical need.
"When people have access to this kind of food they don't feel desperation," Rains says. "They feel content, and they feel more secure in their daily lives."
The church's policy is to give to whoever asks, and Richardson becomes emotional talking about the idea. "Nowhere does Jesus say, 'Give only when you think people deserve it,'" he says.
In the past, according to Richardson, the community considered First Baptist to be a church that was "all about us." But with the advent of the garden, attitudes began to change both internally and externally. It has become a launching point for participation in the July 4th parade, the local carnival, back-to-school events and the preparation of "thank-you meals" for local teachers.
Locals (and beyond) refer to the church as "the church with the garden"—and the moniker has First Baptist leaders toying with the idea of making it the official name.
"Now," says Richardson, "the local attitude is, 'That's the church that really loves our community.'"