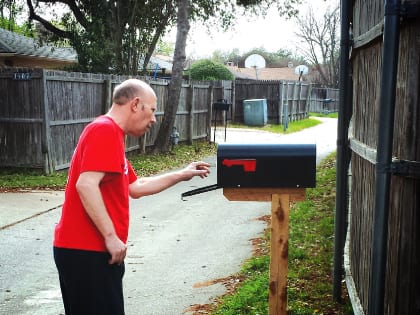 A House Becomes Home for Disabled Adults
When members of Ascension Lutheran Church in Garland, Texas, gathered for a house blessing March 1, Butch, 58 and one of the home's four residents, beamed with pride as he showed off his Dallas Cowboys-themed bedroom. Having their own place is a big deal for the housemates; they're disabled adults who, until now, have only experienced apartment dwelling.
Ascension Lutheran partnered with Mosaic in Dallas—a faith-based nonprofit that creates meaningful lives for intellectually disabled individuals—on the project. With Mosaic's guidance, the church purchased, renovated and furnished the single-story, five-bedroom house in Richardson. Church members painted, removed carpet, installed heating and air conditioning systems and created a wheelchair-accessible bathroom. They supplied appliances, cupboards, countertops, flooring, blinds, bedding, cleaning supplies and canned goods. The initial investment was $250,000, with an additional $20,000 set aside for improvements and repairs. The church then gifted the home to Mosaic.
Butch and his roommates are thrilled. The yard and basketball hoop make the place feel homey, and when a local company donated a grill, Butch exclaimed, "Now I can cook hot dogs!"
For the home's new residents, these simple things are an avenue toward dignity.
"This house gives these men the ability to experience a level of independence that makes a huge difference in their welfare," says Ascension Lutheran Pastor Kurt Friederich, who hopes the project inspires other churches to think outside the box when it comes to outreach.
"If our 100-member church can do this," he says, "others can, too."