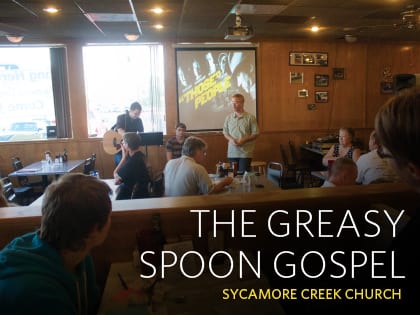 A local diner becomes church on Monday nights.
For Sycamore Creek Church in Lansing, Mich., the local family diner is more than a place for dinner; it's also been the church's second location for the past year. The United Methodist church of about 200 weekly attendees had met in a school for 13 years before it set out to eventually meet in seven different venues seven days a week.
"The culture's changed, and people don't reserve Sunday morning for worship anymore," says Pastor Tom Arthur. "A diner attracts a different kind of person who may not go to some other venue that doesn't have the food or the informality."
A year ago, Arthur made arrangements with a diner to reserve Monday evenings for the church, which offers live worship music and the same message as on Sundays. About 40-70 people come, and total attendance has grown by 22 percent.
Outreach events like the Burger Bash encourage members to invite a friend; each receives a free burger. First- and second-time guests always receive one. Table tents, displayed daily, have even attracted some of the diner's regulars.
Sitting around tables enjoying dinner encourages friendly conversation, which Arthur capitalizes on when he stops during messages for table discussions.
"You can come to church and just sit there, listen and not actually tell anybody anything about what you're going to do this week," he says, "but I make you talk about it. And people come back. They seem to appreciate that opportunity."
SYCAMORE CREEK CHURCH
Lansing, Mich.
Website: SycamoreCreekChurch.org
Lead Pastor: Tom Arthur
Founded: 2000
Affiliation: United Methodist
Locations: 2
Attendance: 200