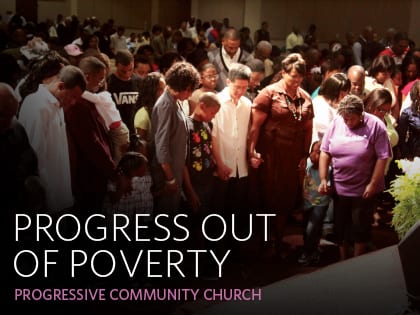 Progressive Community Church builds a beacon of hope in downturned Stockton, Calif.
In an impoverished part of a California city that recently declared bankruptcy, Progressive Community Church Senior Pastor Glenn R. Shields decided to do something radically counterintuitive: build an $8 million church.
"We're in Stockton, Calif., and the economic downturn hit this city in a severe way," Shields says. "A lot of foreclosures have occurred, and the area where the church is located is even more economically depressed. So we decided to build this multi-million-dollar structure here as a beacon of light and hope in this community."
Although the multipurpose facility is miles away from any similar private investment, the church is adding about 200 new members each year. Since Shields arrived in 1999, the church has grown from about 200 members to 1,700 today.
The church's ability to connect, engage and retain members has been instrumental in the rapid growth, Shields says. One way it does this is by holding citywide events, including town hall meetings and concerts, and by offering free funerals and weddings to members and non-members.
As part of its poverty-specific outreach efforts, the church operates a clothes closet year-round and distributes food baskets during Thanksgiving and Christmas. Once yearly, the church organizes an outing and encourages its members to invite family and friends to enjoy free food, entertainment and fellowship. About 1,500 come each year.
Shields says these efforts, along with the great love the pastoral staff has for people, are behind the growth of the church.
"I would like to believe one of the reasons is that we really love people," Shields says. "I think it shows in how we interact with the congregation and how we invest time with one another."
PROGRESSIVE COMMUNITY CHURCH
Stockton, Calif.
Website: ProgressiveCC.org
Lead Pastor: Glenn R. Shields
Founded: 1993
Affiliation: Missionary Baptist
Locations: 1
Attendance: 1,002