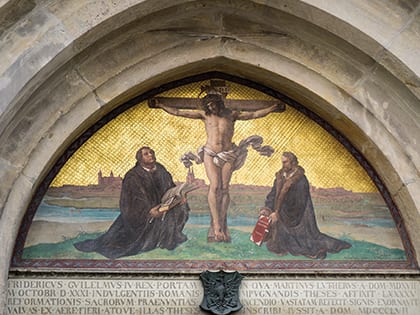 Leaders call for a reformation of unity and diversity.
On Oct. 31, 1517, the 33-year-old German priest and scholar Martin Luther posted his 95 theses for consideration at All Saints' Church (also known as Castle Church) in Wittenberg, Germany. Legend suggests that he nailed the document to the church door—although this cannot be proven, it was not uncommon to post announcements and discussion topics to the church door. However he presented his arguments, Luther aimed to bring about reformation in the church by addressing the widespread abuses of his day.
His emphasis on justification by faith was never intended to abandon consideration of faithful witness, but just the opposite. As Luther writes in The Freedom of a Christian, union with Christ by faith involves caring for our neighbor in love. Caring for our neighbors—those very different than us as defined by Christ in Luke 10:25–37 and thus fulfilling the whole law beyond mere love for God (Matt. 22:40; Gal. 5:14)—requires proximity (Eph. 4:1–13). If we distance ourselves from those who should be our neighbors, how can we lovingly care for them?
We have to move from the mind of Moses to the heart of Abraham—from creating churches to reach our own people to standing in the gap for all people.
On Oct. 31, 2017, 500 years after Luther, 95 pastors and ministry leaders from around the world posted 95 theses of their own, calling for reformation in otherwise systemically segregated, homogeneous churches. Fundamentally, the project challenges pastors to create environments wherein people of diverse ethnic and economic backgrounds would be encouraged and equipped to walk, work and worship together as one in local churches, beyond the distinctions of this world that so often and otherwise divide.
Contributors hope the project will be used in private reflection as well as in discussion with staff and lay leadership teams who might then take action, as the Spirit leads, in bringing such reform to the local church wherever it is needed.
Here's a sampling of the statements. The entire document, including a preamble and a call to reformation, is available at Mosaix.Info/reformation/95-theses.
"In the spirit of reformation, we must move from efforts and ideals to sacrifice and service for diversity to become reality in the church."
—Wilfredo "Choco" De Jesús
"The discomfort of diversity—the fear, selfishness and pride we must surrender—is part of God's sanctification curriculum."
—Elizabeth Childs Drury
"We have to move from the mind of Moses to the heart of Abraham: from creating churches to reach our own people to standing in the gap for all people."
—Naeem Fazal
"As a sign, instrument and foretaste of the age to come, the church should be the most integrated, diverse, just and loving community on the face of the earth."
—Michael Frost
"Multiethnic churches are a critical way to do racial reconciliation."
—Kevin Haah
"We can no longer justify or settle for anything less than unity and diversity in the local church."
—Alejandro Mandes
"There is a danger that churches (misapplying) the HU (homogeneous unit principle) will become exclusive, arrogant and racist. That danger must be resolutely combatted."
—Donald McGavran
"As Christians, our credibility to address the issue of reconciliation has been called into question; therefore, we must directly respond."
—Brenda Salter McNeil
"The New Testament is clear on the value and priority of oneness within the church. Why aren't we?"
—Andrew and Kevin Palau
"Our gospel has holes in it. Our gospel accommodates bigotry. We do homogeneous church plants; we make sure that they're racially divided. Oh man, what are you talking about?"
—Dr. John M. Perkins
"As followers of Jesus Christ, our gospel mandate is to prophetically oppose systems of oppression, not perpetuate them."
—Albert Tate
"God is in the work of putting those on the margins into the center of his story. It is the job of the local church to join him in this work."
—Jenny Yang
Mark DeYmaz, an Outreach magazine contributing editor, is the founding pastor and directional leader of Mosaic Church in Little Rock, Arkansas, and co-founder and president of Mosaix Global Network.