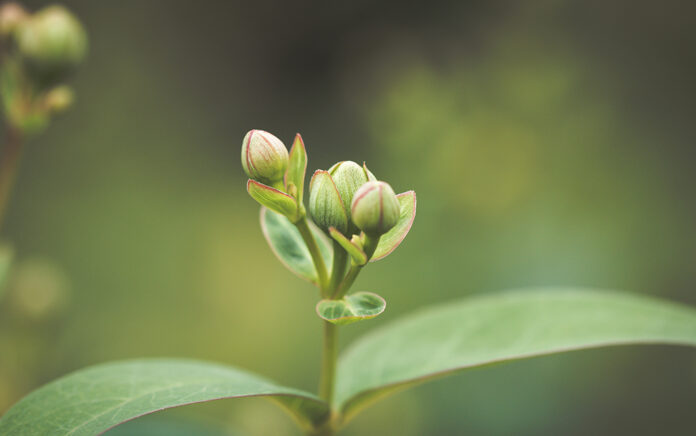 How Church Size Will Impact Ministry Recovery
THE FUTURE OF THE CHURCH—PART 2
Part 1 | Part 2 | Part 3
The COVID-19 pandemic has proven to be a massive disrupter to American churches, and new trends are quickly emerging. Which trends will persist long-term and which are simply noise or hand-wringing? What can the largest and fastest-growing churches tell us about formulas that might make all churches more adaptive, more resilient and more effective in mission as we exit the pandemic? 
Here's our imagining of what the post-pandemic future will look like across various church sizes based on recent research. We frame these predictions by various attendance levels because size difference really matters. Congregations of different sizes had different resources and assets they could access when the pandemic began. They also had different levels of willingness to change, ability to take risks and prior preparedness. 
Small Churches
A large percentage of smaller churches will be severely challenged.
A church with attendance of 65 is normal in the sense that it represented the national average going into the pandemic. Sadly, those with 65 or fewer attendees when the March 2020 shutdowns took effect tended to be older congregations, and many were not prepared for the pivots needed for healthy navigation during the last year. This reality offered little room to risk the reinvention or radical innovation necessary to meaningfully relaunch and grow through outreach. Many of these same churches are still tech-challenged today. Their decline will be accelerated across the next 10 years except for the 25 to 30% that genuinely innovate.
"As U.S. culture increasingly sees church life as marginal or irrelevant, the attractional quality of midsize churches will continue to wane."
Regrettably, the research says that the more a church drops in size, the less likely the congregation is to reach new people or grow. Often, a low corporate self-esteem creates discouragement or pessimism that the church can't reach younger generations or impact its community for Christ. Outreach for these churches will be seen largely as attempting to bring back those who were regular attendees prior to the pandemic. 
Midsize Churches
Many midsize churches of 100 to 500 attendees will face considerable pressure to make the new normal look like the old normal. 
Many have already made, and will continue to make, a permanent shift toward greater online giving, Zoom committee meetings and even passive streaming of worship services. However, true continued innovation significantly consumes time and energy. The inertia of the long haul will pull these churches back toward easier paths and deeper historic ruts. In no time, many will be functioning just as the typical church has for centuries: building-centric with one place for physical worship and community, focused mostly on events happening only one day per week.
Yet, the pandemic has created profound changes in our culture, including a new attitude of "in-person is optional" for work, medical consultations, shopping, school and church. People now need compelling reasons to participate in church the "old way" by being physically present. Merely reopening for business as usual works even less now than it did before the pandemic.
As U.S. culture increasingly sees church life as marginal or irrelevant, the attractional quality of these churches will continue to wane. Many will be large enough to survive, but unwilling to make the shifts necessary to thrive.
Medium- to Large-Size Churches
Some medium-size and many larger churches will take up the challenge of radical reprioritizing. 
They will focus on addressing the deep systemic and cultural changes that the past 18 months have brought into being, realizing that the country's patterns of behavior are not the same as they were in 2019. 
Their adaptations will include employing technology to make disciples of Jesus. They will experiment with hybrid worship that includes face-to-face and virtual participants. These technological adaptations will also be used for 24/7 spiritual nurture, fellowship and outreach.
"Medium- to large-size churches will keep leveraging their online presence, not content to settle for only a one-way broadcast of in-person services."
These churches will keep leveraging their online presence, not content to settle for only a one-way broadcast of in-person services. Most churches dramatically improved their video skills during the pandemic, but only a few prioritized making their use of the internet into a two-way conversation. 
The goal with online viewers, especially those far from the church's physical location, is for them to be known and for them to take steps of discipleship. Popular self-identification strategies include requests to fill out an online visitor card, opportunities to join an online small group, invitations to give financially, chat features prior to and during gatherings for community building and pastoral care, and forums for sharing prayer requests—all of which give the church contact information for future interactions. Many churches plan to continue their online outreach and discipleship, even as many of their local participants return to in-person attendance.
A good many of these churches will consider multiple campuses. Some will relaunch as a network of microchurches—creating multiple churches within the whole. These adaptations might fizzle for most, but any sustained diversification of their locations and presence in the community will ultimately help, especially as it deepens the role of group life through lay-led small groups and other decentralization.
A few creative entrepreneurial and disruptive innovators might even branch out beyond the current church model, which preferences a physical location (or a few locations) toward an understanding of a gathered community that is fluid, dynamic, flexible and multilocational. These experiments in practical ecclesiology could offer on-demand access to spiritual enrichment, door-to-door pastoral care, individual and group pop-up fellowship experiences, use of third spaces and other expressions of the faith in community that are less tied to a static location, day or time.  
Large Churches
Churches of all sizes, but especially larger churches that typically have more capacity for innovation, will shift their metrics—the vitality indicators they value, champion and measure. 
They will be the main contributors toward reshaping a model of what it means to be a church. Some will shift their metrics to depend less on worship-service attendance and more on smaller-expression measures of discipleship, service and commitment both online and in-person.
"Large churches will be the main contributors toward reshaping a model of what it means to be a church."
Such churches are counting connections, first steps, next steps and engagement. They emphasize and measure individuals participating in small groups, serving, giving financially, as well as helping others grow in spiritual disciplines such as prayer and personal Bible reading—whenever and wherever it happens—online, in-person or, more likely, a hybrid combination of both. They view their church as an online church with an in-person location, happening as much virtually and at a distance as in the building, and spanning 24/7 instead of just occurring on Sunday morning.
Those that make a shift in metrics and in a wider perception of the gathered community will begin to think of church in new ways that are less tied to location, days and time. Their new models will go beyond the physical gathered community, from pastoral care by Zoom to meaningful church outside the walls that impacts their entire congregational community.
Tomorrow Comes From Yesterday
If the pandemic mostly accelerated and intensified what was already in motion, then a helpful way to find our way in the future is to learn and build from the past. Let's start with four realities.
1. We are a nation of small congregations—and we're getting to be more so quite fast. The size disparity between smaller and larger churches keeps increasing. 
It's hard to believe if you read only this issue of Outreach with its lists of largest participating, fastest-growing and reproducing churches, but half of all U.S. congregations draw 65 or fewer weekly worship attendees, and nearly three-fourths have 100 or fewer in worship. Those are pre- and early-pandemic numbers from 2020, so there's a good chance that today's numbers are even lower. (The survey we're drawing our statistics from is called Faith Communities Today (FACT). The sample used for this article is weighted and limited to FACT 2020's 13,764 Protestant churches—21% mainline and 79% evangelical.) 
2. Size matters in addressing the challenges of flourishing beyond the pandemic. Size does make a considerable difference in how a church behaves, and we can draw many lessons from churches of all sizes. Spiritually vital and growing congregations are found in all size groupings, as well as those that were struggling. (For a more extensive discussion of this reality, see Scott Thumma's forthcoming article "Exploring the Dynamics and Challenges of Congregational Size" in Theology Today, Fall 2021, which draws from FACT 2020 research on 15,278 congregations.)
"Spiritually vital and growing congregations are found in all size groupings, as well as those that were struggling."
3. Some pastors will not survive the next few years of recovery from the pandemic. A few church leaders—disproportionately ones in smaller- and medium-size churches—will resign or retire, and likely more than is typical for the next few years. Their transition will be triggered by long-term fatigue and lack of church planting skills. Exhaustion has exacted a painful toll, wearing down people's spiritual and emotional reserves. Many are deciding that the challenge of reimagining, relaunching and rebuilding is too formidable. Pastoral search groups are calling 2021–2022 the "Great Churn." 
Some of this clergy shuffling will accelerate the rate of church closures or require more churches to merge with each other. Yet on the brighter side, the pandemic has awakened many of the laity to use their skills in new ways and reclaim ownership of their leadership in many congregations.
4. Churches with attendance of 500 and up, while roughly just the top 6% of all congregations in the country, draw about 50% of all weekly worshippers. If the median congregation has 65 weekly worship attendees, then everything above 500 is very large when looking at the full U.S. congregational landscape. It's like a clothing comparison between extra small and various levels of extra large.
These largest congregations are influential trendsetters and are prominent in the public arena—for better or for worse. This is not to say larger congregations are inherently better than smaller congregations. Nor does this reality diminish the presence, role and importance of smaller congregations. Size varies by community context, region and personal preferences.
All churches have strengths and challenges. Smaller churches are as critical to the moral and spiritual welfare of our society and people as are larger churches. 
Are All Big Churches Alike?
With these perspectives in mind, the following material explores certain large-church dynamics uncovered by research. Using the recently released FACT 2020, America's largest-ever study of congregations, we'll identify select patterns of health, growth and congregational vitality in large churches of 500 attendees and up. Bottom line: We found that healthy community-life dynamics increase spiritual vitality—a model that might benefit churches of all sizes in the post-pandemic era.
"Clergy shuffling will accelerate the rate of church closures or require more churches to merge with each other."
Why look at the nation's largest churches? They were most prepared and already had in place many of the characteristics and resources needed to adapt and thrive going forward. Even so, we'll also show that big faith communities are not all the same.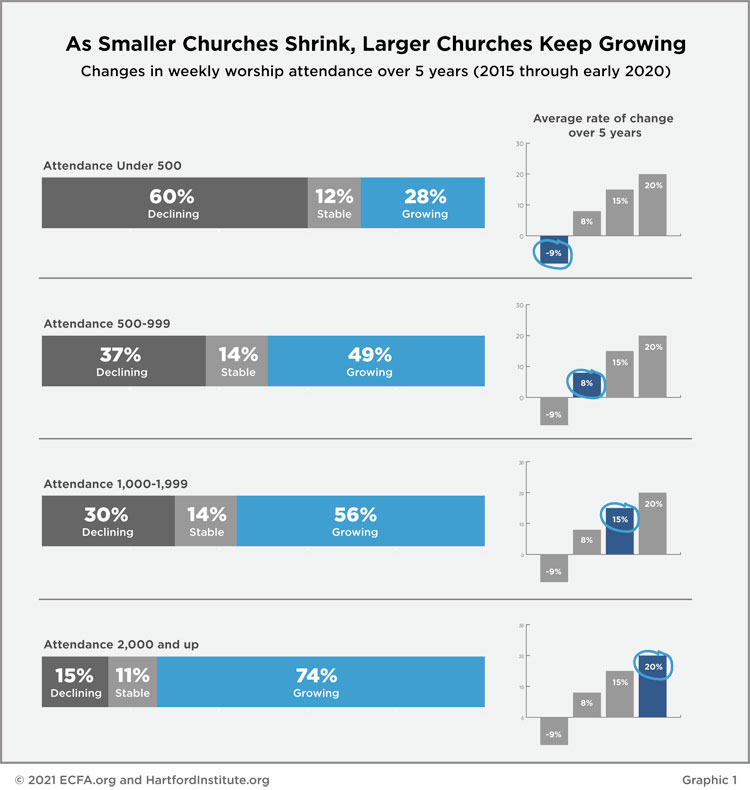 Growth rates differ by church size. The larger the church, the more likely it is to have grown over the last five years, as Graphic 1 above shows. The average church under 500 in attendance shrank by 9% between 2015 and early 2020 (i.e., it dropped in size about 2% a year). By contrast, during that same time period, churches with attendance between 500 and 999 grew by 8%, churches with 1,000 to 1,999 people grew by 15% and churches with 2,000 or more people in the congregation grew by 20%. 
If larger churches continue to grow in attendance and smaller churches continue to shrink, the typical church in the future will look very different from today's average church. The landscape will be dotted with more large churches and fewer small churches.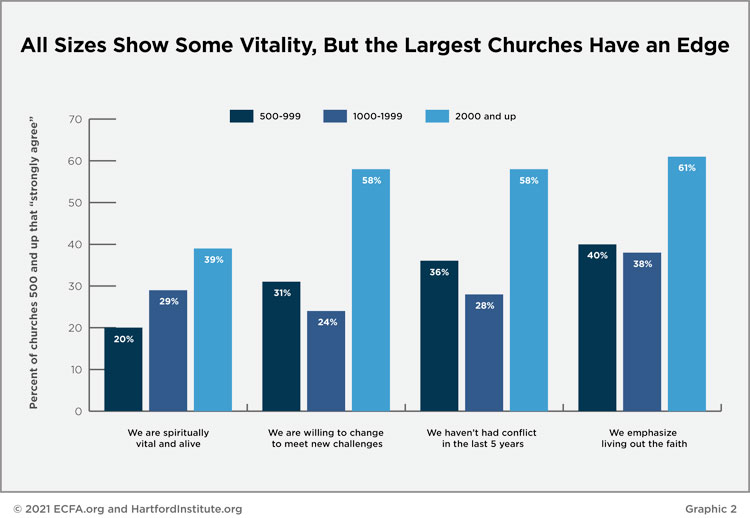 Spiritual vitality increases with size. Over the years, research has identified a number of qualities that are strongly associated with congregational flourishing. Four of them are highlighted in Graphic 2 above, illustrating that the bigger the church, the more likely it identifies with these positive markers—in this case a sense of being spiritually vital and alive, of being willing to change to meet new challenges, of not having major conflict in the last five years and of emphasizing ways to live out one's faith in daily life. Aside from these four, larger congregations are also likely to affirm having a clear mission and purpose and having a high commitment to community involvement.
The larger the church, the more central the role of small groups. Big churches grow larger by getting smaller—or, by involving participants in groups within the whole. Small groups are distinct units within the entire congregation where people know each other personally and participate in various kinds of spiritual ministries. Examples include groups that meet in homes, Sunday school classes, discipleship groups that meet every other week at a coffee shop and online groups that discuss and apply each week's sermon. 
The survey asked church leaders whether small groups were central to their strategy of Christian nurture and spiritual formation. Every size category gave a resounding yes, with percentages that inched higher with size: 82% of churches with 500 to 999 attendees, 86% of churches with 1,000 to 1,999 people and 89% of churches that have 2,000 or more people.
"Large churches that are declining do not emphasize the centrality of small groups nearly as much as do large churches that are growing."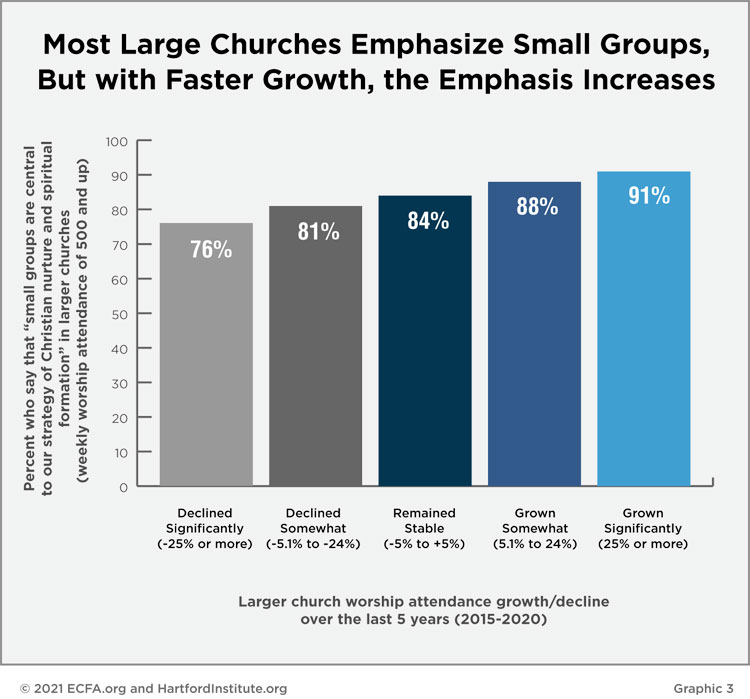 Church growth and small-group involvement also go hand in hand. Large churches that are declining do not emphasize the centrality of small groups nearly as much as do large churches that are growing. Graphic 3  above shows somewhat of a straight-line increase: The greater the growth rates in a large church, the more likely small groups are central to its strategy. There are similar increases in the percentage of adult attendees who are involved in small groups: from 37% in large churches that are declining significantly to 48% in those that are growing significantly.
Likewise, among large churches, the faster-growing the church, the more attendee-led outreach it does as its participants invite new people and then incorporate them into the congregation.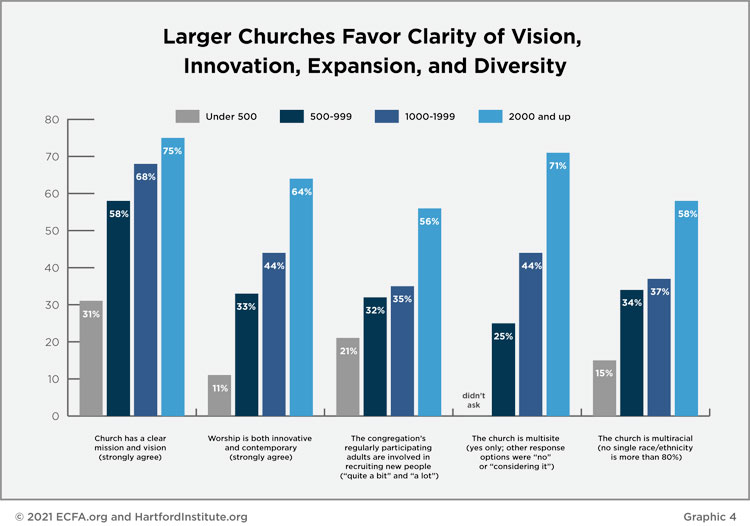 Many qualities rise with size. Across a variety of congregational dynamics, larger churches consistently describe themselves as strong, robust and growing in momentum. Specifically, larger churches are marked by clarity of vision, innovation, expansion and ethnic or racial diversity, as Graphic 4 above illustrates.
What Each Size Range Does Best
Churches under 500 in attendance do many things well, starting with strong member commitment. The smaller the environment, the harder it is to be anonymous. As a result, research affirms that churches in this size range have high levels of participation and high per capita giving. This size of church also tends to share its building or facilities with outside groups far more often than larger sizes do. 
These churches tend to demonstrate great stability; they are more likely than others to be in the same location in which they were founded, and they also had some of the oldest founding dates. They tend to have the largest percentage of new immigrants of any size grouping—and they're also more likely to have choirs as part of their worship services.
Churches with attendances of 500 to 999, when compared across a couple dozen variables, are much more similar to churches larger than they are than to ones smaller than they are. In particular, they excel in having a high percentage of young-adult attendees ages 18 to 34. They also inch above other church sizes when it comes to having the highest percentage of their adults in small groups. They're also more willing to open their meeting space to outside groups than are larger churches.
Churches with attendances of 1,000 to 1,999 likewise demonstrate many characteristics of a large-church environment. Some are obviously directly tied to increased congregational size such as annual income levels, the size of the sanctuary and the fullness of the sanctuary during worship. Areas with the biggest increase from the 500 to 999 size include the role of contemporary worship, the use of a multisite strategy, the drawing of people from different denominational backgrounds and an increased clarity of mission and vision.
Churches with an attendance of 2,000 and higher (often labeled as megachurches) stand out in many ways in addition to their significant outreach and growth rate. They are most likely to be striving to make the congregation more racially or ethnically diverse and are more likely than other church sizes to be multiracial with at least 20% minority representation. This group has the lowest per capita operational costs, but they also had the largest percentage of their budgets going to staff costs and program expenses. They also had the lowest per capita giving from participants.
"Size does make a difference in terms of various congregational strengths and spiritual vitality."
This group of largest congregations is both actively involved in the local community and also engaged in programs of global mission. Likewise, these large churches were the most likely to offer a wide variety of engagement options for their own membership, including programs for music, sports and special-needs ministry, among others.
When these traits are combined—outreach, small-group involvement, member diversity, abundant internal programs and significant monetary, physical and personnel resources—the attractional appeal of these largest congregations is considerable. The increased gravitational pull of larger churches explains in part why this segment of the religious landscape has become home to an increasingly greater percentage of religious attendees over the past decades.
Any Size Can Work Well
Size does make a difference in terms of various congregational strengths and spiritual vitality. Given that reality, wise leaders will look, learn and adapt appropriately from churches that are in a different size category from their own. There is much to learn, for example, in areas like giving small groups a central role, using the internet fruitfully for outreach and discipleship, and being willing to adjust models or methods to be more effective in mission.
It doesn't require a megachurch to be good at developing clarity of purpose, empowering and training lay leadership, being willing to change and adapt methodologies, using small groups for discipleship, experimenting with technology and innovation, or reaching out to new people. Those can exist in any size church; it just requires intentionality.
Jesus said he will build his church and even the gates of hell will not prevail against it (Matt. 16:18). That's reassuring news as a new post-pandemic era begins, one where most local churches' meeting format, location and size are all likely to change dramatically.