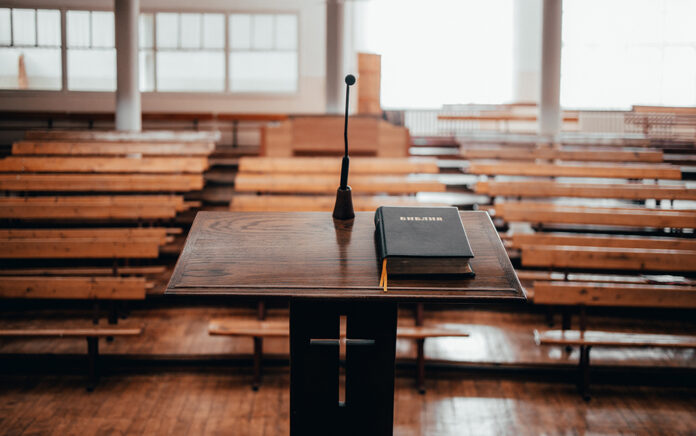 Many of these issues may seem obvious, but how often have we truly addressed them with the aim of equipping our people?
I'm not called to preach, but having worked with hundreds of pastors over the years and after hearing thousands of sermons, here's a handful of subjects I rarely hear addressed from the pulpit. I'm offering this as an encouragement for pastors to consider adding to your regular preaching schedule, because each one should become a priority in your church. Let's start preaching more on:
1. The Bible.
I know, you preach out of the Bible every Sunday, but when was the last time you preached about the Bible? Why does it matter? Is it the voice of God? Where did it come from? How did we end up with these particular 66 books? Who decided that? Can we trust it? Biblical illiteracy is skyrocketing today and I'm convinced that one of the biggest reasons we're not making an impact in today's culture is that most Christians have no solid foundation for their faith.
Don't just preach out of the Bible, preach about the Bible, and give your congregation the confidence in God's Word they need to encounter today's secular culture—not to mention a lot of false doctrine out there.
2. How to Share Your Faith.
I had lunch with Barry Meguiar recently. Barry is a businessman who is incredibly passionate about teaching Christians how to share their faith, and he created Ignite America—a ministry focused on helping to accomplish that goal. Barry starts gospel conversations with everyone he meets—waiters, clerks, salespeople, the person sitting next to him on an airplane—literally everyone.
While some Christians are afraid to start a spiritual conversation, I'm convinced a greater number simply have never been taught how to confidently share their faith. What approach works and what doesn't? How can we avoid being a jerk? When's a good time to bring it up?
What if we made the subject of sharing our faith a priority at churches across America? What if we taught our members how to do it in a friendly, encouraging and winsome way? How would that impact our culture if millions of those conversations started happening this week?
Which leads me to the next subject …
3. Inviting People to Church.
Collectively, churches have spent billions on church growth programs with very questionable results. While advertising and marketing are important, there's nothing like church members simply inviting their family and friends that causes churches to grow. A few years ago, Kathleen and I visited Calvary Temple in Hyderabad, India—considered the largest church in the world. When I asked pastor Satish Kumar about their strategy for church growth he looked at me like I was from another planet. He said, "We don't have a 'strategy,' we have a culture of invitation. Every Sunday, church members actively invite family members, neighbors, co-workers and friends. Rarely do I meet a church member on Sunday who doesn't have multiple people he or she has invited to the service."
It made me think about the last time I invited someone to my church. How did we lose that "culture of invitation" in the United States? Maybe it's time to start teaching it.
4. Worship.
In the vast majority of churches today, the word worship simply means music. I know worship leaders at churches across the country that are simply performers. They don't lead the congregation in worship, teach about worship or create an atmosphere of worship.
That's why pastors need to step in and teach exactly what the Bible says about worship—what it is, why it matters, and what it does for the believer. Let's recalibrate the concept of worship at our churches and teach our congregations just how life-changing it can actually be today.
5. The Culture.
You probably wouldn't argue that today's culture is going in the wrong direction. That's why I believe it's time to address many of the issues your members are confronting in their workplace, at our schools and with their friends. And for the record, that doesn't mean you have to become known for your politics. Jonathan Bock and I address that issue in our book, The Way Back: How Christians Blew Our Credibility and How We Get It Back. We should never identify the church with a political party because Jesus transcends politics, but there are moral and spiritual challenges happening today that we need to address.
Give your members the biblical perspective and the information they need to withstand the onslaught they face outside the church doors. Give them confidence that God has a plan.
Keep preaching the gospel, but I also believe with all my heart that if pastors started addressing these five critical issues, they would see a dramatic difference happening in their churches.